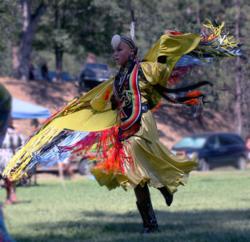 It's a tremendous display and celebration of the first cultures of our country
(PRWEB) July 28, 2012
This town located in the exact center of California will also be the location for a long running event celebrating the diverse tribal culture found in the area.
Yosemite National Park and the Sierra Nevada mountains have been home to numerous Native American tribes for centuries. The community of North Fork, which is located in the exact geographic center of California, is home to the Mono tribe. Each August, the tribe celebrates the rich heritage of the native peoples of the region and beyond with the annual Indian Fair Days and Pow-Wow. This year's event takes place August 4 and 5.
"It's a tremendous display and celebration of the first cultures of our country," said Jarrod Lyman, director of media and public relations with the Yosemite Sierra Visitors Bureau. "It's fascinating to see the similarities and different customs of each tribe, and watch as they all celebrate their rich history."
As many as one dozen, and possibly more, tribes from throughout the United States will be on hand to showcase their unique customs as they all gather to celebrate their heritage. There will be a hand game tournament, food and craft vendors showcasing tribal art and a dance competition.
The event takes place at the North Fork Recreation Center located at 33057 Road 230 in North Fork.
Gates open at 9 am both days. Tickets cost $2 ahead of time, and can be purchased at the Sierra Mono Indian Museum in North Fork. Entrance is $5 at the gate.
For more information, contact the museum at 559-877-2115, email at staffmonomuseum(at)gmail(dot)com or online at http://www.SierraMonoMuseum.org.