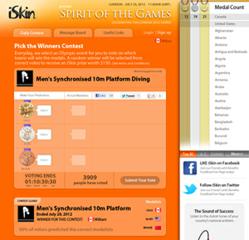 A Spirit of the Games keeps up to date with daily medal counts
Toronto, Ontario (PRWEB) July 27, 2012
iSkin, a premium brand for fashion and technology lifestyle accessories, today launched Spirit of the Games, an interactive community website dedicated to the London 2012 Olympic Games.
The main feature of the site is a daily contest that highlights selected games and allows users to enter their predictions of which countries will win the gold, silver and bronze medals. Users are also able to share their predictions on Facebook® and Twitter® directly from the site. By making a prediction, each registered user will be automatically entered into a contest to win a prize from iSkin. iSkin will select one random winner from the total of the entries received and award a product prize to the winner. Contests will precede an event by one day and will close up to one hour before the actual event starts. The daily contests will include popular games from track & field, swimming, gymnastics, soccer and many more.
Another notable feature is the message board that allows users to express their support for their teams, athletes, country and the Games. Messages scroll elegantly and continuously for other visitors to read from around the world. Lastly, the website of the Spirit of the Games features a medal leader board that shows the current medal count for all participating countries at the London 2012 Olympic Games. Users are able to view countries arranged alphabetically, by the top twenty leading countries or by a user-defined custom order for registered users. As the games progress, the daily medal count will be updated on the website of the Spirit of the Games, for users to keep track.
The website of the Spirit of the Games is also an informative resource featuring useful links to other web resources that cover the London 2012 Olympic Games. See Spirit of the Games here http://london2012.iskin.com
About iSkin Inc.
iSkin Inc. designs and delivers an inspired line of accessories, enhancements and solutions for the thriving Digital Lifestyle marketplace. iSkin has earned the reputation of being one of the most trusted brands in the world by being a company that focuses on total in-house, top to bottom product development with unique designs, technologies and innovations. iSkin is one of the first companies that started to create new-generation, protective solutions with fashionable style for mobile devices with the birth of the iPod® in 2001.
The iSkin word mark and logo are registered trademarks of iSkin Inc., registered in Canada, the United States and other countries. All Rights Reserved 2006-2012. Facebook® is a registered trademark of Facebook, Inc. Twitter® is a registered trademark of Twitter, Inc.
For additional information on this and other iSkin products, please contact iSkin PR(at)press(at)iSkin dot com or at (416) 924-9607, ext. 248. Follow us on twitter.com/iSkin for live social updates.