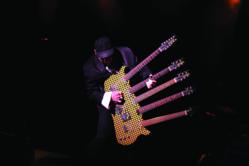 "This would not have been possible without the support of Governor Quinn and Illinois Department of Tourism and Economic Opportunity." -- Alan Brown, Executive Director of Burpee Museum of Natural History
Rockford, IL (PRWEB) July 27, 2012
The Illinois Department of Commerce and Economic Opportunity, Office of Tourism has awarded the Burpee Museum of Natural History and its newest exhibit, Rick's Picks: Rick Nielsen's Lifelong Affair with Guitar's and Music, a Tourism Attraction Development Grant totaling $250,000.
Alan Brown, Executive Director of the Burpee Museum of Natural History commented, "Having the support of the Governor and the outstanding staff at Illinois Office of Tourism has provided the necessary funding to create a world class exhibit of rock and roll history at Burpee Museum of Natural History from the work of Rick Neilsen. People from all over the world will be coming to Rockford to view this amazing collection of guitars and memorabilia and it would not have been possible without the support of Governor Quinn and Illinois Office of Tourism."
Tourism Attraction Development Grants are awarded to counties, municipalities, non-profit organizations, local promotions groups, and for profit businesses with the singular goal of developing projects that increase the economic impact of tourism throughout Illinois. Grantees provide matching funds for their projects.
John Groh, CEO of the Rockford Area Convention and Visitors Bureau expressed his excitement at the grant award, "We're tremendously grateful for this level of support--not just for the exhibit itself, but what it represents for Rockford as a destination. Rick Nielsen is a one-of-a-kind Rockford resident and we're so grateful and thankful that he chose to launch this one-of-a-kind exhibit in his hometown. It's an amazing project and will be a major boost for Rockford and our region's tourism market."
The exhibit opens in Rockford, Illinois with preview tours for sponsors, special guests and the media on August 10th, 2012, and to the general public on Saturday, August 11th, 2012 at Burpee Museum of Natural History, 737 North Main Street Rockford, IL 61103. A celebratory concert, Rick Nielsen & Friends is being planned for January, 2013. Find more information on Facebook. Or follow emerging news on Twitter.
Post-Rockford, officials intend to send the exhibit on an worldwide tour. Corporations and Organizations interested in national and international sponsorship of the exhibit are invited to visit the Rick's Picks Sponsorship page, or to contact Rick's Picks Director of National Sponsorship, Jennie Walker at jwalker(at)rickspickslive(dot)com for more information. Many levels of collaboration are available.
About Rick's Picks
It's Guitars. It's Rick. It's Music History. It's a Fundraiser. From Rockford, Illinois' skating rinks to Tokyo's Budokan, Rick's Picks tells the 40-year story of one of the hardest-working stars in Rock & Roll. As one would expect, Rick has more stories than his five neck has strings. Rick's Picks also is a fundraiser for Rick Nielsen's favorite hometown museum, the Burpee Museum of Natural History. For more information, visit http://www.rickspickslive.com or contact Anne Boccignone, 815-742-0110, aboccignone(at)grahamspencer(dot)com.
About Burpee Museum of Natural History
Since 1942, Burpee Museum of Natural History has inspired people to engage in a lifetime of learning about the natural world. Burpee Museum of Natural History is home to 66-million year old juvenile T.rex, Jane, as well as a number of other interactive and educational exhibits. For more information, or to see a schedule of events, please visit http://www.burpee.org.
About Rick Nielsen & Cheap Trick
When Cheap Trick burst onto the national music scene in the 1970s, it broke new ground with a punkish, hard-edged brand of literate garage rock that was the perfect antidote to what ailed weary FM radio listeners worldwide. The band's uniquely midwestern sensibilities have been deftly recorded in 28 albums and laid bare in thousands upon thousands of performances worldwide. With walls of gold and platinum records to prove their enduring success, Cheap Trick and its pick-flinging, checkerboard-bedecked dynamo Rick Nielsen have never stopped touring, much to the delight of one of rock history's most loyal fan bases. Rick Nielsen, and bandmates Robin Zander and Tom Petersson can be seen touring with Aerosmith in major cities across North America this summer. The band and the tour were named among "the summer's hottest" by Rolling Stone magazine.