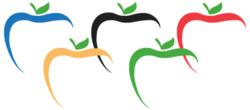 Following the thread of a topic or interest to gain new knowledge characterizes Fund for Teachers grants.
Oklahoma City, OK (PRWEB) July 27, 2012
If the International Olympic Committee awarded medals to teachers, a gold one would hang around the neck of elementary teacher Amber Shelton. Hard work and perseverance netted her a $5,000 Fund for Teachers grant to observe how Olympians overcome obstacles (physical and political) to go "faster, higher, stronger." Next week, she journeys to London and meets with Olympic officials, athletes and trainers to replicate the environment for her PE students at Ranchwood Elementary in Yukon, OK.
"As a teacher, I think the most important way I can reach children and inspire learning is being excited in the learning myself," said Shelton. "I've discovered over the years that when I'm really interested in teaching a specific subject, my students become excited about digging deeper. It's a wonderful cycle that produces amazing results."
Shelton begins her research watching the Canoe Sprint event in Eton Dorney, where she'll cheer for the athletes whom her students met this spring. The USA Canoe/Kayak team trains at the Devon Boathouse in nearby Oklahoma City. Joe Jacobi, executive director of the team, toured Shelton around the training facility this spring, and introduced her to the athletes. Shelton then travels into London to support the USA Wrestling Team, specifically Kristie Davis who also visited her class.
"Just by showing interest in learning about the Olympics and its events, people I'd never met volunteered to help me and share knowledge and skills I can pass onto my students," said Shelton. "I know that the relationships I make in London will have an everlasting effect on my teaching and my students."
This fall, Shelton says she will transfer her experiential learning to her PE/Health students. Both Jacobi and Davis plan to teach various aspects of their sports in her classroom. A local orthopedic surgeon/USA Olympic team doctor will present on how athletes keep their bodies in strong physical health by eating well and exercising regularly; Shelton hopes this insight will equip students with knowledge to help fight the high rate of childhood obesity in Oklahoma. She plans to collaborate with colleagues to incorporate cross-curricular units focusing on cultural customs and geography in Social Studies, measurement conversion and physics in math, and sportsmanship and diversity in Leadership Development classes. A school-wide "Mini Olympics" field day will conclude the year.
"Following the thread of a topic or interest to gain new knowledge characterizes Fund for Teachers grants," said Karen K. Webb, executive director of the foundation that's awarded $18M to 5,000 teachers for self-designed professional development since 2001. "Fund for Teachers respects educators' vision of what they need to succeed and gives them the freedom to pursue it, whether that means attending seminars in their hometowns to learn new strategies or journeying overseas to develop global insights."
Daniel Zeroski, teacher at Stillwater High School also in Oklahoma, designed an Olympics-themed Fund for Teachers fellowship, as well. He will meet with representatives from the Olympic Movement Organization and Youth Sport Trust Young Ambassadors in London to learn strategies for cultivating students' love of wellness and improving Oklahoma's 48th place ranking in states' overall health.
Eligible teachers interested in designing their own professional development may complete an online application beginning October 1.
Fund for Teachers enriches the personal and professional growth of teachers by recognizing and supporting them as they identify and pursue opportunities that make the greatest impact on their practice, the academic lives of their students and their school communities. For more information on how to apply for, or support, a Fund for Teachers grant, visit fundforteachers.org.