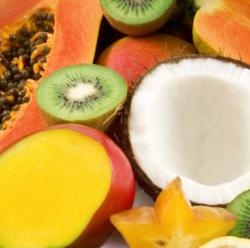 "It's my job to introduce people to these little known fruits with exciting new tastes to offer." - Bob Petrucci, tropical fruit farmer
Stockton, CA (PRWEB) July 28, 2012
For tropical fruit growers in southwest Florida, the summer months bring much more than your usual berries, cherries and peaches. At a recent election fundraiser event for President Obama on Miami Beach's Sunset Island, Chef David Schwadron prepared a special "Welcome to Miami" menu featuring 'Duck Salad over Dragon Fruit Carpaccio and Mangoes'. Dragon fruit, or 'the kiwi of the future', as he calls it, is just one of the tropical fruit varieties that grower Bob Petrucci of Homestead, Florida harvests this time of year on his family-owned and operated Fresh Gardens farm.
"There are only a few regions in the entire country where you can grow these unique specialties, and Dade County is one of them," explains Farmer Bob, (as he likes to be called). "Many of my customers are originally from parts of Southeast Asia or Latin America and are looking for the staple fruits they grew up with but can't easily find in US supermarkets." With FromTheFarm.com, consumers from all over the country can order Farmer Bob's tropical fruit online and enjoy the taste of the tropics delivered to their kitchen table.
Most Americans might have sampled tropical fruit flavoring in Hawaiian Punch and Juicy Fruit Gum, but Farmer Bob encourages people to experience the fresh fruit versions themselves. "It's my job to introduce people to these little known fruits with exciting new tastes to offer," he says.
Here are Farmer Bob's picks for The Five Must-Try Tropical Fruits of Summer:
1) White Dragon Fruit: Hot pink on the outside, bubblegum sweet on the inside, "this could very well be the Kiwi of the future," says Farmer Bob. "It's an incredible example of beauty, and tastes like a cross between watermelon and pear. I like to make melon balls out of them." The fruit is popular eaten chilled, and is also used to flavor cocktails, sorbets, smoothies and pastries, or even as a decorative garnish.
2) Longans: Literally translated as "dragon eye" in Chinese for its translucent white flesh surrounding a smooth black seed, this fruit is slightly smaller and more mild-flavored than their Lychees relatives. "When it's fully ripe, you gently squeeze the bark-like skin and the fruit will appear. Pop in your mouth and chew around the pit, then discard the pit" Farmer Bob advises. "They're best eaten fresh, but can also be dried to make a fruit tea."
3) Mamey Sapote: This hearty, oval-shaped treat is Cuba's national fruit, and was considered by ancient Central American cultures to be the fruit of the gods. It has a creamy texture and a sweet salmon-red pulp that's "reminiscent of almonds with the texture of an avocado," Farmer Bob describes. They're popular additions to fruit salads, milkshakes, preserves and fruit drinks.
4) Tamarind: Did you know tamarind is a central ingredient in Worcestershire sauce? Fresh tamarind is slightly sweet with a tangy edge. When ripe, the pulp from these pods becomes much sweeter and can be enjoyed in curries, chutneys, and hot and sour soups. With sugar added, it adds a refreshing flavor for drinks, cocktails, sorbet, or as a dried fruit candy. "Tamarind juice is wonderful," says Bob, "Enjoy it cold and sweetened, mixed with some water on ice."
5) Purple Passion Fruit: You've heard of passion fruit, but have you tasted it fresh from a tree? The amazing aroma of this exotic fruit lingers in your mouth, like a combination of pineapple, guava, and lemon. Enjoy passion fruit on their own, on yogurt or ice cream, or use their spectacular flavor in a variety of desserts. "Chain stores stock this variety of passion fruit because they can leave them on shelves for up to a month and they'll still look good," Bob explains, "but we pick our fruit straight from the vines, and send it from our Florida family farm to your doorstep."
This summer, Farmer Bob encourages consumers to get their daily dose of vitamins with exotic tropical fruits such as sapodilla, hearts of palm, pink guava and more on FromTheFarm. For shoppers looking to experience a wide array of tropical tastes, Farmer Bob offers a sampler box featuring 5 lbs of hand-selected tropical fruit sent right to your doorstep. As with any FromTheFarm order, freshness is 100% guaranteed.
About FromTheFarm.com
FromTheFarm proudly supports hard working American family farmers. Their online service brings the finest produce, gourmet meats and specialty foods direct to your doorstep. Customers can enjoy unique food finds, such as all-natural Piedmontese Beef, fresh figs and ultra healthy quail eggs or send healthy gift baskets to family and friends.
For more information, please visit FromTheFarm.com or call (209) 645-0010. Find us on Facebook at Facebook.com/FromTheFarm and Twitter @FromTheFarm.