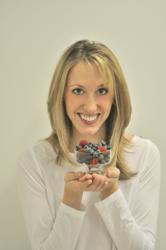 I'm honored to be included alongside such talented and creative men and women representing every aspect of our industry," says Aust. "These innovative thinkers are driving the industry forward with fresh ideas and products
Lowell, Oregon (PRWEB) July 31, 2012
Amelie Brazelton Aust, new business manager for Fall Creek® Farm & Nursery, has been named one of the rising young stars and leaders to watch in the horticultural industry by Greenhouse Product News (GPN).
Aust is among 40 of the best and brightest men and women named to GPN's "40 Under 40" Class of 2012. These rising stars were nominated by their peers based upon their achievements, both in and out of the greenhouse.
"Among the new visionaries, Amelie stands out as a top talent whose vision is shaping the future direction for the berry industry," says Tim Hodson, editor of GPN.
This Fulbright scholar with a law degree spent years learning the family berry business, the world's leader in commercial blueberry breeding and plant production. Now Aust is spearheading the launch of Fall Creek's new consumer marketing program, offering for the first time berry shrubs for home gardens.
Under her guidance, Fall Creek is introducing the game-changing BrazelBerries® Collection of small ornamental berry shrubs. Two blueberry and one raspberry shrub will be available in 2013.
Aust says that the new collection "will change the way gardeners think about berry bushes."
Aust and her family's vision was to develop new varieties of ornamental berry shrubs that were first and foremost beautiful landscape shrubs. They also had to be simple to grow and produce an abundance of delicious berries.
"I'm honored to be included alongside such talented and creative men and women representing every aspect of our industry," says Aust. "These innovative thinkers are driving the industry forward with fresh ideas and products that connect with consumers in our ever-changing world."
The nominees representing the horticulture industry from across the nation range in age from 24-39 with diverse backgrounds and impressive accomplishments.
"It's no wonder she's among GPN's next generation of horticulture leaders to watch that are shaking things up," says father Dave Brazelton. "She's always been a leader and a star."
For more information visit, http://www.brazelberries.com.