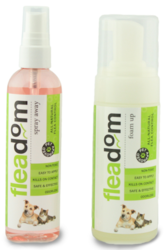 Saint Petersburg, FL (PRWEB) July 28, 2012
PetsLife International today announced the release of Fleadom, an all-natural, non-toxic flea and tick treatment for pets. Available in both foam and spray versions, Fleadom is the first-ever flea medication that kills fleas on contact without any harsh chemicals or intrusive odors.
"Many pet owners are troubled with a flea-infested pet, only to realize that all commercial flea products contain harmful chemicals that can cause serious side effects," said David Carmody, co-founder of PetsLife International. "Fleadom is a safe, odorless formula that works instantly by affecting the flea's ability to breath, thus causing instant repertory failure."
Most commercial flea treatments work by poisoning your dog or cat's blood system, killing fleas only after they've bitten your pet. Every year many consumers unknowingly apply a wide variety of flea products containing chemicals such as imidacloprid, fipronil, permethrin, methoprene, and pyriproxyfen - all of which have caused serious health problems in animals.
"These are poisons," said Steve Owens, Assistant Administrator of the EPA's Office of Prevention, Pesticides and Toxic Substances. "These products are designed to kill fleas and ticks, and they do their jobs." Common flea products display labels warning you to avoid contact with the skin, in spite of the fact that the products are designed to be absorbed through your pet's skin.
Fleadom's odorless, proprietary formulation works by interfering with the flea's ability to breathe through its exoskeleton, causing instant respiratory failure. Fleadom products are completely safe and 100% painless for your pet. "We are especially excited about our foam version designed specifically for use on cats," said Mr. Carmody. "Fleadom Foam Up is extremely easy to apply making it a truly unique and innovative product for cat lovers looking for a safe and easy to use solution for their cat's flea problems."
Fleadom is currently available for sale on the official company website, getfleadom.com, and is scheduled for retail distribution in Q4 2012. To learn more about the product, visit http://www.getfleadom.com.