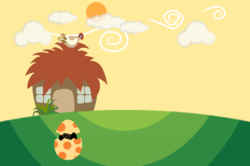 Although this is an exploration game, I want guides to be readily available in case someone is too stumped on a gameplay element.
Orange, CA (PRWEB) July 30, 2012
Furdiburb®, an independently developed game that is currently in beta, is the most popular virtual pet game in the Google Play Store.
One day, after a relaxing vacation on Earth, Furdiburb's parents were returning to their home planet when their little alien egg rolled out of their spaceship. The parents took off without realizing something was missing, and left little Furdiburb back on Earth. Earthlings... err... players... can adopt the armless (and helpless) cute pet by feeding and caring for him. Players can also collect houses and furniture for their pet, surf the stars for credits, dodge bugs, play challenging musical games, plant flowers, go fishing, and mutate their pets for different looks. They can also find and fix up a broken spaceship with the hopes of sending Furdiburb home one day. Not yet though, the game is still in beta.
"The first thing you'll notice," explained Alice Lo, co-founder, developer, and composer, "is that the interface is very clean. Most virtual pet games out there will have buttons that say 'feed pet', 'clean pet', and other types of actions. We wanted our game to look great artistically rather than have a cluttered screen. Players will have to grow food in order to feed their pet, or actually throw away poop to clean the place and make sure he doesn't get sick. These actions involve players and are more rewarding, rather than caring for a pet with a simple push of a button."
Without obvious commands on screen at all times, a lot of the game mechanics are puzzles themselves. How do you feed the pet? How do you bathe the pet? How do you enter buildings? There are tutorials in the game that instruct players on what to do with the virtual pet aspects, but they only show up once so that they're not annoying. Occasionally, users may need a hint or two to solve some of these puzzles. In response, the team is introducing new Furdiburb how-to videos.
"I answer tons of emails," announced Danny Ata, co-founder and artist. "People wanna know things like 'how do I clean my pet?' or 'how do I get my pet to make more gold poop?' So I'll be working on video tutorials for fans who need extra help. Although this is an exploration game, I want guides to be readily available in case someone is too stumped on a gameplay element."
These tutorials, as well as other videos, are available on the company's SheadoNet Youtube Channel.
Sheado.net is also working on the next update. When asked what it will contain, the three said "there's nothing to announce yet", then zipped their lips.
Except for Chad Ata, co-founder and developer, who spilled the beans. Well some beans at least, as he mentioned: "it'll contain spirits."
About Sheado.net
Founded in 2010 by two guys and a gal with the mission of "making the world a happier place - one app at a time". Currently targeting Android™ devices, Sheado.net is dedicated in creating rewarding and enjoyable experiences for users of any age.