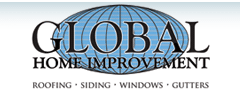 Feasterville, PA (PRWEB) July 27, 2012
Global Home Improvement has announced a special metal roof offer for its devoted clients. Clients who purchase a new metal roof will get a second product for free. The client can choose from seamless gutters, a Velux Skylight, new snow guards, or attic insulation, completely free!
Being the Tri-State's leading home remodeler, Global Home Improvement offers customers the best work, and newest technologies and innovations when it comes to roofing, windows, and siding.
When dealing with a home remodeling contractor, it is important to know some of the company's history before working on a project together. Built from the ground up, Global Home Improvement emphasizes their quality and experience when working with new customers. Staying ahead of the curve in home remodeling is a reason why customers choose Global Home Improvement over others.
One reason why Global Home Improvement is the best is because of its exceptional customer service skills. Customer Diana Dukes of Philadelphia was very satisfied after her project was completed, "The men working on our home were very professional, courteous and neat. They always cleaned up any mess before they left my home. It was a pleasure coming home every day from work seeing what else has been completed on my project!"
Visit http://www.globalhomeinc.com for more information on this special offer.