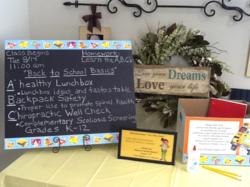 "Our mission is to serve our community in all aspects" Dr. Josh Purcell
North Las Vegas, Nevada (PRWEB) July 31, 2012
Active Life Health and Wellness, the North Las Vegas chiropractic and wellness center is conducting their Back to School Supply Drive now through August 14th to help local schools. Residents are encouraged to bring new school supplies to this North Las Vegas Chiropractic office during the hours of 8:00am-6:00pm Monday through Thursday and 8:00am-1:00pm on Fridays. Active Life Health and Wellness is located at 4250 Simmons Street, North Las Vegas, NV 89032. School supplies will be donated to local North Las Vegas schools to help get them ready for the coming school year. Pencils, crayons, glue sticks, pens, etc. (lists of needed supplies can be found at local stores such as Target and Wal-Mart) should be new and in their original wrapping.
"Being able to help collect much needed school supplies for our youth is something we are very excited about. We have a lot of teachers as our patients and we recognize and honor them for their hard work teaching our children" Dr. Purcell. Active Life Health and Wellness will be offering a workshop on Back to School Basics on August 14th so that parents and children are educated regarding scoliosis, children's nutrition, school backpack safety, children's chiropractic well care and childhood immunizations. The North Las Vegas Wellness Workshop will be held on August 14th from 11:00am to 12:00pm and everyone is welcome. Light refreshments will be served.
Active Life Health and Wellness is the premier North Las Vegas chiropractic care center owned by Dr. Josh Purcell. He is assisted by Dr. Barry Stanley and an experienced staff whose goal is to educate everyone on the positive effects of chiropractic care. "My goal and vision is to help as many families as possible live their lives to their fullest potential" Dr. Purcell. At Active Life Health and Wellness they stress the importance of a whole body approach and believes that each individual should be well informed to make their own health and wellness decisions. Active Life Health and Wellness treats a myriad of conditions and often eliminates the need for a person to undergo surgery.
Working with children as young as newborns is a chiropractic specialty of Dr. Josh Purcell and Dr. Barry Stanley. "After treating children for many years, I have witnessed the benefits of chiropractic care. Children who receive chiropractic care are given a head start in life over children taking unnecessary medications" Dr. Barry Stanley. They believe that starting children off with an excellent structural foundation gives them a great advantage as they grow. Their upcoming North Las Vegas Wellness Workshop and School Supply Drive emphasize their commitment to helping North Las Vegas children get a great start in life.
For more information on Active Life Health and Wellness, visit their website .