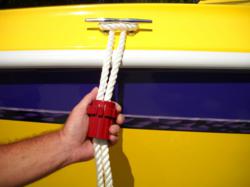 Boaters can save time and secure their boats faster and easier than ever.
Brentwood, TN (PRWEB) July 27, 2012
The patented Super Rope Cinch device that allows anyone to tie and untie rope without using a knot is now available at Sears.com.
Ever needed to secure something with rope but can't figure out the best knot? What about having to secure 2 or 3 ropes together, and the ropes are all different in size? While many people struggle when attempting to tie and untie rope, the Super Rope Cinch solves the issue for people who are challenged when tying and untying rope. Not to mention, it costs less than $5 dollars.
Perhaps the most important knot is the one boaters are supposed to use when tying their boat to the dock - The cleat hitch knot. Yet, many boaters do not know how to tie a cleat hitch knot correctly. With the Super Rope Cinch, you don't need to know how to tie the cleat hitch knot, or any other knot for that matter, because the Super Rope Cinch does it for you.
In June of 2011, Just Right Products LLC launched their Super Rope Cinch device into retail. Since that time, it has been gaining new retail outlets and distribution channels at a wildfire pace. The simplistic device allows anyone to secure multiple ropes (of any size up to 5/8" in diameter) with just a twist. Simply insert the ropes and twist. That's it - your ropes are now secure. Ready to untie rope? Simply press the release button and the Super Rope Cinch lets go of the ropes.
As of July 26, 2012, the Super Rope Cinch is available at over 12,000 retail stores in the U.S., with more locations being added daily. With current distribution via some of the largest stores/distributors in the U.S. (Do it Best, Orgill, Home Depot, etc...) and attention from distributors around the globe, you're sure to see the Super Rope Cinch at a store near you in the very near future. You can also buy online by visiting RopeCinch.com for a list of retailers.