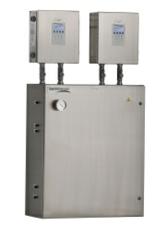 Houston, TX (PRWEB) July 31, 2012
SpectraSensors will participate in the 72nd Annual Appalachian Gas Measurement Short Course (AGMSC) in Moon Township, Pennsylvania on August 14 - 17, 2012. The AGMSC provides an excellent opportunity for those associated with the gas measurement industry to learn from 75 lecture classes and over 100 hands-on workshops.
Sam Miller, Director of Product Line Management, Natural Gas at SpectraSensors, will lead a TDLAS Operational Methodology class on Friday, August 17 at 8:30 am. Miller will review TDLAS and its application for measuring H2O and CO2. He will discuss benefits and opportunities to optimize gas quality, along with the construction, sample system design, environmental considerations, and a comparison to historically applied technologies.
Ryan Hamilton, Field Service Engineer at SpectraSensors, will provide hands-on training for SpectraSensors' TDL Moisture Analyzers on Thursday, August 16 at 1:00 pm.
In addition to leading classes, SpectraSensors will display their Oxygen, 3-Pack H2S analyzer system and Moisture analyzers. Attendees can visit the SpectraSensors' booth to learn more about their solutions for natural gas quality measurements.
More information: http://www.spectrasensors.com
AGMSC: http://www.agmsc.org
About SpectraSensors, Inc.
SpectraSensors is a leading manufacturer of optically based moisture analyzers and H2S analyzers for analytical process markets. SpectraSensors uses Tunable Diode Laser Absorption Spectroscopy (TDLAS) in an array of products such as Ambient Air Monitoring Analyzers, Moisture Analyzers (Hygrometers) and Gas Analyzers for Natural Gas Pipelines and Processors, Petrochemical Refineries and Chemical Companies.
SpectraSensors Gas Analyzers measure: Moisture (H2O), Carbon Dioxide (CO2), Hydrogen Sulfide (H2S), Oxygen (O2), Hydrocarbon Dewpoint and more.
###