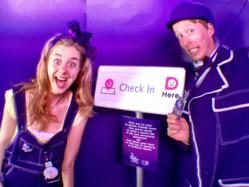 Kirsty Band, Cadbury Brand Manager: "We're really excited about using dwinQ's RFID and social media sharing technology in Cadbury House."
London, England (PRWEB) July 27, 2012
dwinQ, the leading provider of ambient social media experiences for global brands, will be activating the Cadbury House interactive experience in Hyde Park during the 2012 London Games. Cadbury will build three giant, inflatable purple domes in Hyde Park featuring a series of fun, unique and social media connected interactions for its guests. Cadbury expects 50,000 guests over two weeks, but many more will be able to see the automatically shared photos of their experiences in real-time through dwinQ's ambient social media solution.
Kirsty Band, Cadbury Brand Manager on the project comments: "We're really excited about using dwinQ's RFID and social media sharing technology in Cadbury House. The magical experience of Cadbury House will be open for the full 17-day Games period, and people will inevitably want to share their experience with their friends so that they can come and enjoy Cadbury House as well. By making this as convenient and easy as possible for our visitors through instantly shareable photos, Likes and Check-ins, we hope to spread the joy of Cadbury House far and wide."
"Just a few years ago the Cadbury House experience would have been limited to those people attending the Olympic Games. Thanks to dwinQ, Facebook and the power of social media, the guest experience will be shared with millions of their friends in real time," commented dwinQ CEO Patrick J. Sweeney II.
Mr. Sweeney explained, "With Cadbury provided RFID badges, attendees will be able to capture images at photo booths and automatically post them in real-time to Facebook. By simply standing on the podium to have a picture taken or waving an RFID badge in front of a Like box, a tagged photo or Like post will be uploaded automatically. Attendees do doing nothing more than enjoy the experience. Cadbury is showing other companies how to get the most out of events through social media and branding while providing a valuable benefit to guests."
About Cadbury House during the Olympic Games
Cadbury House, open from 27th July until 12th August, located in Hyde Park as part of the BT London Live experience, will be a free interactive experience that will bring the magic of Cadbury to life right before your very eyes. Visitors will make their way through three huge domes of magical games and chocolate experiences, with a series of static touchpoints, which will allow them to automatically update their Facebook profile with their activities.
Cadbury, Official Treat Provider of the London 2012 Olympic and Paralympic Games is helping people from all corners of the UK to come together, celebrate and be part of the spirit of London 2012 by creating moments of joy up and down the country.
About Cadbury House
The Cadbury House experience features 2000 square meters of real-world engagement in the middle of Hyde Park. Attendees will receive an RFID-enabled pass, and associate the pass to either their email account or Facebook account. Then as they walk through the unique interactive experiences within the Cadbury house – from the Chocolate Vault that reveals Cadbury's secret to delicious chocolate to the Guest Podium that gives them the chance to grab some sports equipment, wave their RFID pass and stand on the podium while photos instantly upload to Facebook and tag everyone in the photo. Attendees will not have to be distracted by mobile phones, wrestle with logging in, or manually tag their friends – they can simply enjoy the moment and dwinQ's patented social media platform captures everything in real time and shares it directly on their Facebook Timeline and Newsfeed.
About dwinQ
dwinQ helps global brands deepen engagement with event and venue guests by providing fun, interactive environments that enable guests to automatically capture and share their experiences in real-time with friends on social networks while preserving lasting memories. Brands benefit by securing favorable brand associations embedded in personal social posts, generating additional brand impressions delivered to guests' social network audiences and gaining access to in-depth consumer demographic and psychographic data. Guests have fun. Brands benefit. dwinQ is Based in Cambridge, MA USA and has activated some of the world's largest event venues with social media and photo sharing including golf's U.S. Open, the Olympic Games and six ski mountains operated by Vail Resorts.