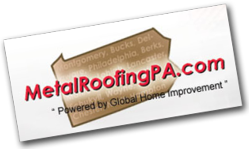 Feasterville, PA (PRWEB) July 27, 2012
The enthusiasm of Metal Roofing PA has brought the company to top-notch levels in Philadelphia and its surrounding counties, making it the number one roofing company in the area! Metal Roofing PA is now offering (and can install) standing seam metal roofs in counties around Philadelphia including Bucks, Chester, Montgomery, Lancaster, and Delaware County! No matter what type of house you live in, Metal Roofing PA provides improvements to home appearances with their wide range of metal roof colors.
Metal roof types include: Standing Seam metal roofs, metal shingles, metal tile, metal shark, metal roof, copper roofing, and zinc roofing. These custom made roofs are sure to fit any style of house, whether it is for historic homes, homes with low sloping roofs, homes with partial roofs, and even contemporary homes.
The benefits of a newly installed metal roof guarantees that the homeowner will save time, money, and energy for years to come. Metal roofing has a life expectancy of fifty plus years, along with durability to resist fire, wind, ice, and mold. People concerned with the environment should know that metal roofing is 100 percent recyclable and is also energy efficient. As reported by the Cool Metal Roofing Coalition and the Oak Ridge National Laboratory, the installation of reflective metal roofing can save up to 40 percent of cooling energy costs in the summer while highly emissive metal roofs can reduce urban air temperatures by as much as twelve degrees Fahrenheit!
Visit metalroofingpa.com for more information. To schedule a free estimate for any of Metal Roofing PA's services, please call 800-391-5130.