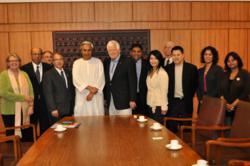 We need to understand the cultural diversity of India along with its intricate connection with the democratic system of governance, then only we can ensure a sustainable bilateral trade relations.
Seattle, WA (PRWEB) July 30, 2012
Ambassador Isi A. Siddiqui, Chief Agricultural Negotiator at the Office of the U.S. Trade Representative, U.S. Rep. Jim McDermott (Seattle), U.S. Rep. Mike Honda (Silicon Valley, CA) and Consul General of India Mr. N. Parthsarathi will be among the many dignitaries attending the US-India Trade Summit, which will be held in Seattle, Washington, on September 27 and 28 at the Seattle Center, with the theme of "Building a Legacy for the Next 50 years". "Vibrant Gujarat 2013 Road show" and other exhibits will be the highlight of this trade summit. High profile trade delegations from the Indian States of Gujarat, Odisha, Karnataka and Assam comprising of ministers, senior govt. officials and business leaders are also expected to participate in this summit.
The Summit is taking place during the Next Fifty, a six month long celebration (April – October) marking the 50th anniversary of the Seattle Center and Seattle's First World Fair (1962-2012). The month of September has been designated as the month for Innovation & Economy. The Chief Minister of Orissa, Mr. Naveen Patnaik has been invited by the organizers to be the chief guest of this trade summit while Union Commerce and Industry Minister Anand Sharma and Union Civil Aviation Minister Ajit Singh have been invited as the Keynote Speakers.
WASITRAC was established in 2007 as a non-profit advocacy group working for the US-India bilateral trade relations under the honorary chairmanship of Seattle Congressman Jim McDermott, who is also the co-chair of the India Caucus in the US House. WASITRAC has facilitated two trade missions to India under the leadership of US Rep. Jim McDermott and Lt. Governor Brad Owen in 2010 and Port of Seattle CEO Tay Yoshitani in 2011. Port of Seattle signed its first sister-port agreement in India with the Dhamra port, a joint venture between Tata Steel and L&T, in Odisha in 2011.
Washington State has a large and active Asian population representing vast cultural diversity. The State's exports lead US exports to many Asian nations. At the same time India has substantial trade links with these Asians nations as well. Hoping to deepen these trade ties, this two-day summit will have keynote speakers, networking opportunities for business school students, and breakout sessions focusing on key areas of agriculture, bio-tech and medical research, education, clean-tech, infrastructure, logistics, manufacturing, nano technology, pharmaceuticals, real estate and investment, tourism, and renewable energy. Special emphasis will be put on connecting small and mid-size business enterprises here in the U.S. with their counterparts and policy makers in India.
Interestingly, Washington State's total International trade with India appears to be minuscule-- at less than 1 billion. Compare this with China's at $20 billion, a very large share of 20% of the State's total international trade. As per the latest report from the office of the United States Trade Representative (USTR) India was the United States' 17th largest goods export market and 13th largest supplier of goods imports in 2011. "While China, Japan, South Korea and Taiwan have already been among the top 10 trading partners of the US (including that of Washington State); With a population of more than 1 billion and being an emerging economy in today's world with a consistent above 8% GDP growth rate for the last five years and a buoyant younger middle class of a size that is equal to the total US population, the total US-India trade could easily be far better and much higher than what we have at present", says Debadutta Dash, the Co-Chair of http://www.wasitrac.org [WASITRAC.
The next wave of economic growth in India will come from the so-called second tier Cities. This is because big cities like Mumbai, Calcutta, New Delhi, Chennai, Bangalore etc known to the outside world have taken the first wave of investments and achieved phenomenal growth so much so that there is a need to divert the concentration of growth to smaller cities for a perfect balance of growth, opportunities and an easy access to the basic infrastructure. Their opportunities are understood and in a relatively advanced stage of development. Beyond the 'big cities' lies a far bigger opportunity. The Government of India has identified about twenty second tier cities to work in this direction to achieve the next wave of planned growth of 8 to 9% of GDP for the years ahead.
"Through this trade summit we would like to create a better understanding of the intricate link of the cultural-economic-political structure of India with its democratic governance system", Dash said. "This understanding would be vital for our business students, entrepreneurs and policy makers", he said. The registration for the summit will be complimentary to current students of all business schools in the State of Washington. The registration fees have been kept low and it includes meals during the summit to make it easier for the small and medium business owners.
Details of the information on the summit including early bird registration is available at http://www.NextFiftyIndia.org.