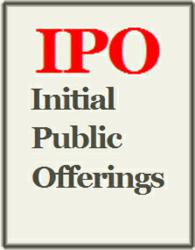 Los Angeles, CA (PRWEB) July 26, 2012
The IPO News & Information Website, one of leaders in online information is about the IPO (Initial Public Offerings) market is excited in announcing it's participation on LinkedIn. The brand new LinkedIn IPO news page can be found here:
http://www.linkedin.com/in/IPOinitialpublicofferings
LinkedIn is a social media site specifically catered to the corporate and business community. Used by businesses and individuals alike, LinkedIn provides a central hub for businesses of all shapes and sizes to exchange news, information, and business ventures to the general public. IPO News & Information Website business director Bill Truman believes social media sites can useful tool to help businesses increase public awareness.
"Many people from LinkedIn visit our website which is about the latest in IPO information, so we thought it was time to begin our own page on LinkedIn. With the help of LinkedIn, The Initial Public Offerings news & information website looks forward to supplying up to date news and information related to the IPO and going public process". Facebook recently did an IPO and they have a great deal to live up to. There quarterly earnings reports are coming due and all of the Wall Street community is waiting to see how they do."
For the people interested in learning about IPO's they have a very good website and for those wanting additional information you can click here
Social Media web sites in particular have proved to be an invaluable instrument for generating public awareness throughout the World Wide Web. Popular social media sites such as Facebook, Twitter, YouTube, and LinkedIn are now quickly becoming the most visited sites on the net.
In a technological driven society, many businesses have now taken to the internet to increase their corporate awareness to aid with their ongoing business ventures. Whether through press releases, blogs, videos, podcasts, etc. the internet has generated many opportunities for businesses to reach out to potential business associates, as well as the general public.
About Us:
Contact Person: Bill Truman
IPO News & Information Website
We Take Companies Public Including Start Up Companies
Email: information (at) IPOinitialpublicofferings (dot) com
Website: www (dot) IPOinitialpublicofferings (dot) com
Tele: 310-888-1195