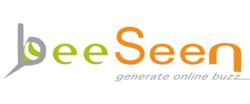 Increased focus and dedication to Social Media will help companies increase website traffic, brand awareness and sales.
San Francisco, CA (PRWEB) July 27, 2012
BeeSeen just launched multiple social media marketing projects with a new client that is ranked within the Top 10 in the baby products industry. This is an exciting partnership for BeeSeen, an E-Marketing agency based in San Francisco, CA.
In this digital age, businesses are now finally seeing Social Media Marketing working and becoming the fastest growing communication channel today. The benefits of word of mouth advertising, viral marketing and reviews are proving to be of higher value than traditional marketing methods. Increased focus and dedication to Social Media will help companies increase website traffic, brand awareness and sales.
BeeSeen has been contracted to lead the Social Media Marketing efforts for this Top 10 baby products company. The primary goal is to grow online presence through blogger relations. A secondary responsibility will be to deliver a custom redesign of their current blogs. Blogger relations management will consist of guiding the team on all aspects of social media strategy, planning, and training, as well as defining new processes. Part of the new processes will involve measuring the popularity of all bloggers and websites that interact with the baby products company. Social media statistics will be tracked for blogger popularity, influence and reach on prime social networking services such as Facebook, Twitter, Pinterest, Google+, YouTube and Instagram to determine and filter out quality bloggers vs. quantity.
It is ever so important to focus on quality for both Social Media as well as building a foundation for link building within Search Engine Optimization (SEO). With the latest Google algorithm update coded Penguin, it is increasingly becoming more important to develop relationships with quality website properties.
BeeSeen has also been involved in revamping the blog design. A key purpose for a custom facelift of the current blog design was to offer an overall enhanced user experience. The blog was also restructured for clearer navigation, while adding more content, to increase sales for the business. Having both a solid blog and a blogger relations program are key elements to a company's Search Engine Marketing and Social Media Marketing campaigns.
About BeeSeen:
BeeSeen provides results-driven digital marketing services to their clients. BeeSeen focuses on E-Marketing services to help companies increase their online visibility, and more importantly increase their sales. BeeSeen offers a full complement of E-Marketing services that combine the best of business consulting, Internet expertise and technology competence – all combined in an upfront and comprehensive service and pricing model that delivers maximum value and a measurable return on investment. The following is a breakdown of some of BeeSeen's core capabilities: Search Engine Marketing, Social Media Marketing, E-Marketing Strategy, Display Advertising, E-mail Marketing, Revenue and Conversion Lift Consulting and Website Analysis and Reporting. More information on BeeSeen can be found on their website: http://www.beeseen.com.