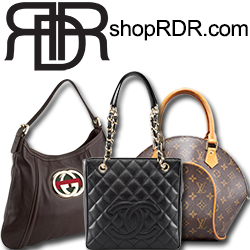 Designers like Coach and Gucci, once considered elite fashion among midrange shoppers, have become much more affordable in recent years.
Houston, TX (PRWEB) July 27, 2012
Whether it is a Chanel quilted leather shoulder bag or a Louis Vuitton clutch; at the heart of every lover of high-end women's fashion lies an affinity for authentic designer handbags. Today, Rodeo Drive Resale (http://www.shoprdr.com), premier seller of luxury fashions, takes a look at a few of the world's most popular luxury handbags and explains what makes these mainstays of upscale fashion so irresistible.
Based on 130 million internet searches, luxury research company Digital Luxury Group has assembled a list of the most searched handbags in the world.
1) Coach – One of the most recognizable names in designer handbags, Coach got its start in 1941 manufacturing small leather goods. Now a fashion powerhouse, the brand has become world famous for its line of Coach shoulder bags, luggage and other upscale items. According to Rodeo Drive Resale co-founder Raya Jaffer, Coach offers luxury design at a competitive price. "Coach represents quality and a designer look at a price much lower than other designer bags of a similar value."
2) Louis Vuitton – Every luxury bag lover has their preference, but most agree: When it comes to style and status, few brands can match the reputation of this French fashion label. Vintage Louis Vuitton bags, wallets and accessories have become the gold standard for sophistication, and as the label looks to maintain its position as the premier fashion brand among China's growing luxury market, demand for LV, founded in 1854, remains as strong as ever. Because of their uncompromising selling strategy (LV has not had sale markdowns on their items for over 154 years), midrange shoppers looking for a deal flock to sites such as ShopRDR.com, which offer buyers the opportunity to buy or sell 100% authentic designer handbags at a fraction of the cost.
3) Chanel – Founded in the early 20th century by fashion visionary Gabrielle "Coco" Chanel, Chanel bags and accessories are adored for their elegance and versatility. The Chanel 2.55 shoulder bag was first released in 1955, after Coco decided she needed a bag to free up her hands. Updated in 2006, the bag remains wildly popular among Chanel lovers around the world.
4) Gucci –Exclusive, luxurious and instantly recognizable, Gucci, established in 1921, has become a status symbol for the rich and powerful. Worn by such iconic figures as Hollywood starlet Elizabeth Taylor and former First Lady Jacqueline Kennedy, the Italian company's line of timeless handbags continue to resonate with buyers of upscale fashion, as the Gucci Hobo Bag has become a fast favorite among brand loyalists.
5) Longchamp – Rounding out the list of most-searched handbag brands is Longchamp, a French leather and luxury goods company founded in 1948. "People love the simplicity of Longchamp," Raya says. "It is impeccably made of the highest quality leathers and textiles but has a very subtle look. It is not flashy, or logo covered which is more common with Coach bags." In addition to handbags, the company also produces clothing, scarves, and similar fashion accessories.
Brand new or pre-owned, Prada, Hermes and Marc Jacobs handbags also rank high among the world's most searched luxury fashion accessories. As the year inches closer toward the holiday season, Raya says searches of these brands will likely increase, with many top designers offering more reasonable prices to buyers hoping to build their luxury collection.
"Expect to see the rise of the brand savvy shopper this holiday season, particularly when it comes to high-end fashion. Designers like Coach and Gucci, once considered elite fashion among midrange shoppers, have become much more affordable in recent years," she says.
ABOUT RODEO DRIVE RESALE
With over a decade of experience, Rodeo Drive Resale specializes in buying, selling, and consignment of authentic couture fashions. Buy, sell or consign favorite luxury designers such as Louis Vuitton, Chanel, Prada, Gucci, St. John Knits, David Yurman, Christian Louboutin, Tiffany & Co. and more. All items are guaranteed 100% authentic. Visit RDR online at http://www.shoprdr.com or call toll free at (888)697-3725.