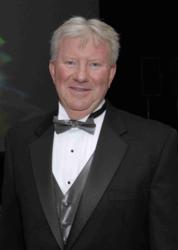 Good stated, "New England and Canada are more than just neighbors – we are business partners that rely on each other's goods and services."
Boston, MA and Salem, NH (PRWEB) July 30, 2012
The New England – Canada Business Council (NECBC) http://www.necbc.org recently announced the election of a new board president – Bob Good, founder and CEO of the lead generation services firm Good Leads of Salem, New Hampshire for the 2012/2013 fiscal year that commences July 1. Formed in 1981 to advance economic, business, and cultural ties between New England and Canada, the NECBC is unique in its role for helping to improve economic development by building cross-border regional relationships.
Good brings more than 25 years of hands-on executive experience in sales, marketing, operations and management to the NECBC. His expertise in bringing together government and trade mission participants with ideal prospects is expected to be especially useful for helping the NECBC meet its mission and goals. Good also serves on the Board of Directors of the New Hampshire High-Tech Council; is the New Hampshire Commercial Consul to Canada, appointed by the administration of Governor Lynch; and is on an advisory board member of the School of Business of Daniel Webster College.
Good stated, "New England and Canada are more than just neighbors – we are business partners that rely on each other's goods and services. Our economic futures are tied to each other whether its energy imports and exports or the commercialization of Canadian technology by New England-based companies." He added, "Both sides of the border have much to learn and gain from each other and the NECBC is the organization that is making the connections that lead to new jobs, technologies and economic growth."
Good has held executive sales and marketing positions with Wang Laboratories, TRW Customer Service Division, General Electric Capital Management Technology Services, and Stream International. Good excelled in leadership roles early on, first as a college class officer and later in the United States Army, where he served in Germany. He also taught as an adjunct faculty member in the Industrial Management Program in the University of Massachusetts College System for 10 years. Good holds an MBA from Southern New Hampshire University and an M.Ed from Wayne State University.
Good added, "The NECBC Board thanks and commends Dr. Anthony Cicerone, Professor of Economics and Director of Canadian Studies of Bridgewater State University for his leadership as president of the Council for the past year. His expertise in Canadian issues provided great value and well-served the NECBC membership."
About the New England-Canada Business Council
The New England-Canada Business Council (NECBC) is a non-profit organization founded more than thirty years ago to promote cooperation, commerce, entrepreneurial networking and a greater awareness of the strategic importance of the New England - Canada relationship. Its membership is comprised of business leaders from a wide range of business sectors including finance, energy, transportation, high tech, biotech, professional services, and travel and tourism among others. For more information:http://www.necbc.org.
About Good Leads
Good Leads® is a premier provider of sales and marketing, lead generation and outsourced business development activities for technology centric firms on a global basis with significant emphasis in Canada. Bob Good is CEO and Founder of the 10 year old firm. Good Leads specializes in executive level lead generation and appointment setting with international emphasis on supporting external corporate sales teams. Good Leads corporate headquarters is in Salem, NH with sales offices in Massachusetts, Maine and California. Good Leads can be contacted at 866 894-LEAD. http://www.GoodLeads.com