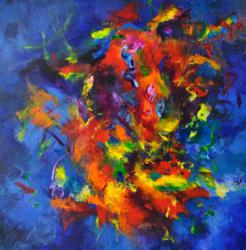 "When collectors view my art, I desire them to see and experience with an open mind, eschewing judgment, accepting each as the unique world expressed", states Pippin.
Santa Fe, New Mexico (PRWEB) July 26, 2012
Pippin Contemporary Fine Art is launching a new art show October from the 3rd to the 24th called 'Aleta Pippin on Exhibit: Spontaneous Combustion – A Collection of Luminous Abstract Paintings'. Pippin has spent nearly a decade exploring her distinctive style of colorful, lyrical and "Luminous Abstraction™" – a term one would apply to her work and other like-minded Santa Fe artists within her circle of influence. This collaborative movement and experimental group of artists share ideas, inspiration, philosophies and techniques. Pippin Contemporary is a featured business on Hutton Broadcasting radio stations. Hutton Broadcasting is the parent company of Santa Fe visitor guide SantaFe.com
Similar to the Cos Cob Art Colony of the late 1800's and early 1900's, Pippin and her fellow pioneering artists test new styles and themes. In the stimulating company of their peers – all of whom were attracted to Santa Fe's "Luminous" deep blue skies, watermelon colored hillsides and fiercely colored sunsets – a trend in style and format has emerged.
Pippin's work has remarkable power to engage the viewer - evoking tranquility or excitement. Striking areas of impasto and high-key chromatics spark one's sense of the unexpected. Her spontaneity is revealed in powerful brushwork, multiple layers of paint, gold, mica and other translucent materials. It is this inexpressible quality of the uncertain that triggers curiosity, surprise and inspiration in the viewer.
Pippin's paintings are created through the love of the process. "My non representational paintings are about spirituality and purposeful emotional intensity." This spontaneous method is the result of rhythmic gestures, brushstrokes, thrown, splashed, stained and dripped paint. "I let the paint fall according to my subconscious mind - a vessel through which creativity and consciousness flows."
"When collectors view my art, I desire them to see and experience with an open mind, eschewing judgment, accepting each as the unique world expressed."
Pippin's artistic career can be described as meteoric and prolific – "Spontaneous Combustion." After a successful entrepreneurial career in Houston, Pippin moved to Santa Fe in 1991 and committed her life's focus to painting. In just 8 years, Pippin has sold over 500 paintings to private and corporate collectors worldwide.
Next year, Pippin Contemporary will host an exhibition of the Santa Fe Luminous Abstraction™ Movement.
About Pippin Contemporary Fine Art:
Exciting and Refreshing are the words spoken most often from visitors to Pippin Contemporary where you'll find vividly expressive abstract work - paintings, sculpture, and glass - a sensory experience of color and mood. Located in Santa Fe, New Mexico, just 1/2 block north of the Historic Plaza, you'll find art to enhance your residential and/or commercial environments.
Pippin Contemporary gallery, represents artists Eva Carter, Guilloume, Dennis Johnson, Rose Masterpol, Suzanne Wallace Mears, Aleta Pippin, Nancy Reyner, Gilberto Romero, Aaron David Smith, Alan Soffer, Sandra Duran Wilson, and Thoryn Ziemba. Each artist celebrates life with colorful and authentic insights into abstractions of our reality.
About SantaFe.com:
SantaFe.com provides locals and visitors to Santa Fe alike the most current interactive platform for events, music, arts, business, dining and lifestyle. SantaFe.com is a division of Hutton Broadcasting, located at 2502 C. Camino Entrada, Santa Fe, NM 87507
Contact Information:
Scott Hutton
SantaFe.com / Hutton Broadcasting
http://www.santafe.com
(505) 471-1067 (Media inquiries only, please)