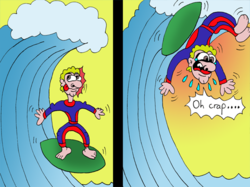 The students who improve their vocabularies the most significantly are the ones who study the most often - bringing our software to more devices makes our product more mobile, and, as a result, more effective.
New York, New York (PRWEB) July 27, 2012
For students taking the SAT, their seems to be an almost endless string of new facts, strategies, and formulas to memorize. To some students, nothing is quite as daunting as SAT vocabulary - the thousands of difficult, college-level words they need to memorize in a few short months usually seem almost unrealistically difficult to memorize.
Anthony-James Green, founder of Test Prep Authority and widely recognized as one of the best SAT tutors in America, launched Vivid Vocab to change the way students study and to make at least one aspect of their SAT prep less daunting. Vivid Vocab, which will soon be accessible via any computer or mobile device, uses intentionally bizarre, image-rich mnemonic devices and multi-sensory experiences to leave students with permanent memories of the most common SAT vocabulary words.
"Most students go about learning their SAT vocab the wrong way," says Green of his software. "They only use text, studying via flash cards and word lists. The problem with these methods is that the human brain is absolutely terrible at memorizing text - people only memorize roughly 8-12% of what they see in text form at a maximum. When students use images, stories, and as many of their senses as possible to memorize words, they pick up words faster, and they usually have a lot more fun doing it, too."
Test Prep Authority's results with Vivid Vocab have been spectacular. Students tasked with memorizing 50 words (given 50 minutes to do so) and tested a week later remembered 44 words when they used Vivid Vocab's software, as opposed to 21 words without it. "We were thrilled with our software's results, but there was one problem: we were using Flash, which doesn't work on iPhones or iPads. As a result, most kids who use our software (and almost all of them seem to have iPhones or iPads) weren't able to study when they were out of the house. Proper vocabulary retention is all about review, so this wasn't acceptable."
After collecting months' worth of user feedback, Vivid Vocab is about to go live with a new, non-Flash version which will allow users to access their software via any mobile device. Additionally, Vivid Vocab has now extended their user subscription length, allowing users unfettered use of their software for 6 months for only $39.95.
Parents and students interested in using Vivid Vocab can try free samples of the software here:
Users can enter code TRYVIVID at checkout for a $5 discount on their 6 month trial.
"I'm excited with the improvements that we're making, and I encourage our users to keep providing us with feedback. A lot of our users were upset that we didn't have iPhone compatibility, so we made it our #1 priority to fix the issue." In the next few months, Test Prep Authority will also be adding 501 new words to the software and installing an interactive practice module. Current subscribers will gain free access to the new features as they're added.
Vivid Vocab was built and developed by Test Prep Authority, a free, online SAT and ACT resource center founded by Anthony-James Green. Green has been called "the most talked about, most effective SAT tutor in America" by multiple online publications, and is the author of Own The SAT, How to Take a Standardized Test, and The Perfect 12 Manual for the SAT Essay, as well as the creator of Vivid Vocab and the college product Every College Question Answered.
Students and parents interested in signing up for Green's full, free, step-by-step SAT program, The Test Prep Method, can do so here:
http://www.TestPrepAuthority.com
Green lives in downtown Manhattan, where he works on Test Prep Authority full time when not working with his individual clients.