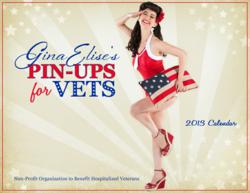 Los Angeles, CA (PRWEB) July 27, 2012
Gene Simmons, entrepreneur, actor, bassist, and singer-songwriter from the rock band, KISS has always shown love and support of the United States Military through his visits to entertain the troops, his visits to Veterans Hospitals, his donations to help Wounded Warriors, and through his hiring of Veterans.
However, in the upcoming months, it is Gene Simmon's wife, daughter, and sister-in-law who will be in the spotlight for steping up to help America's heroes, as their vintage-style photos appear in the popular 7th annual "Pin-Ups For Vets"calendar that will be sold to raise funds that will help to support America's ill and injured Veterans in VA Hospitals and those troops deployed across the globe.
"Pin-Ups For Vets" Founder and model Gina Elise, who is in the middle of a 50-state VA Hospital Tour, invited Gene and Shannon to join her on her visit to California's Long Beach VA Hospital. As they made their rounds of the hospital wards to thank and deliver the "Pin-Ups For Vets" calendars and "Kiss A Vet" T-shirts donated by the nonprofit organization's supporters, many of the Veterans asked Shannon if she was in the 2012 calendar. That was just the inspiration Shannon needed to do a photo shoot with her daughter and sister for the upcoming 2013 "Pin-Ups For Vets" fundraiser calendar, that is shipped to Veterans, troops, and civilians across the globe.
The Tweed-Simmons ladies showed up ready to "rock and roll" for a fun vintage-style photo shoot at Siren Studios in Hollywood, California. "Pin-Ups For Vets" Founder and model, Gina Elise, was there to lend her expertise to help pose the ladies, as acclaimed photographer, Austin Young, captured gorgeous photos of the Tweed-Simmons trio. The episode can be seen here:
"KISS a Vet" episode
The 2013 "Pin-Ups For Vets" calendar is now ready for pre-sale orders and can be purchased for oneself, donated to a hospitalized Veteran or to a deployed service member. Calendars are $10.00 each and are a tax-deductible purchase. Veterans, troop supporters, pin-up fans, and fans of the calendar's featured celebrities can visit the "Pin-Ups For Vets" website at http://www.PinUpsForVets.com and go to the "Order Now" page to order the popular 2013 calendars. Website visitors can also learn more about this project, honored with many community service awards, and also honored by Oprah Winfrey and the deployed troops. Funds raised by the organization have helped VA Hospitals purchase needed equipment.