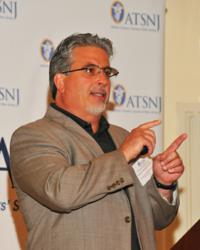 Wayne, NJ (PRWEB) July 27, 2012
8:00 AM
Wednesday, August 1st
Hyatt Hotel…Rt. 27…New Brunswick, NJ
TECHNOLOGY---New helmet sensors detect the number, and severity of hits a player absorbs and sends them to a phone app. A new helmet cap intended to diminish forces is now available, yet helmet manufacturers resist change.They complain new technology takes away from the helmet's mechanics.
ENFORCEMENT---The Athletic Trainers Society of New Jersey is challenging the NJSIAA and its high school football referees to more stringently call leading with the head penalties. ..Spearing…The athletic trainers have data showing that 50% of football concussions occur during collisions in games. Athletic trainers remark that football refs almost never make the call. Why? .
NEW STUDIES---Concussion among female soccer players in the state is up 26%....ATSNJ data shows that girls have a higher incidence of concussion occurs when they are heading the ball…And that 88% of all concussions suffered in girl's soccer occur during game action…Athletic trainers are calling for greater enforcement of contact rules, and new rules limiting aggressive play..
A 15 year old Staten Island, NY high school football player collapsed and died after practice this week. In addition to concussion, Wednesday's ATSNJ Sports Safety Summit will also address sudden cardiac death, and heat issues which have been a serious concern this summer and will remain an issue during the early weeks of pre-season sports. Other topics include skin cancer concerns for athletes as melanoma rates have increased to 1 in 50 the last decade. Another topic Preventing Adolescent Overuse Injury which has been called a "national epidemic" by some.
Concussion Panelists include: Michael Goodman, MD - head of Pediatrics, Cooper Hospital, Jason Mihalik PhD, ATC, Mathew Gfellar Center, UNC, Margot Putukian, MD, Princeton University, who serves on numerous national sports safety committees. Ruben Echemendia Phd, Neuropsychologist, State College, PA, who is credited with writing the original textbook on sports concussion. Jeffrey Kutcher, MD, Neurologist University of Michigan, Chairman of the Sports Neurology section of the American Neurological Association. Dr. Kutcher heads the NBA's concussion committee, and has testified numerous times before Congress.
Just as legislators try to learn more concussion and sports safety, on Wednesday, the ATSNJ will bring the latest research based information to athletic trainers,doctors, nurses, other health care professionals, parents and coaches about issues that are impacting young people's lives more than ever before.
For those unable to attend the summit, the 3rd Annual ATSNJ Sports Safety Summit will be carried LIVE via video webcast and archived one year for viewing on the newly formed ConcussionTV internet channel, http://www.concussiontv.com.