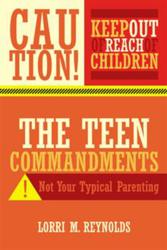 "No one can control another person, but you can influence your children in a way that they want to make good decisions because it makes sense to them and reflects how they want to live in the future."
PONTE VEDRA, Fla. (PRWEB) July 28, 2012
"My methodology is discipline steeped in common sense backed by unconditional love," says Lorri M. Reynolds, author of the new book of parenting advice, "The TEEN Commandments: Not Your Typical Parenting" (published by CrossBooks).
"The TEEN Commandments" provides innovative yet practical guidelines for handling curfews, poor school grades, traffic tickets, cell phones, household chores and more without relying on yelling, empty threats or long-winded lectures. Reynolds combines the traditional parenting mantra that actions speak louder than words with 10 Christian ideas about moral standards for a parenting approach built on logic and respect.
"If you want great kids, guide them. Don't confuse this with controlling them," says Reynolds. "No one can control another person, but you can influence your children in a way that they want to make good decisions because it makes sense to them and reflects how they want to live in the future."
Reynolds says that the abundance of parenting advice available to parents is overwhelming. She suggests that advice from friends, family, websites, talk shows, television shows and even professional psychologists sometimes leaves parents more confused about what they are supposed to do to be good parents. But she urges people to turn to God and the Bible as the most important source of advice parents can trust and use.
She references a line from the Epistle to the Galatians, saying, "God has given each of us the particular skills and talents needed to handle our children's particular personalities and challenges. When it comes to raising children, we must ask ourselves: are we trying to win the approval of men or of God?"
About the Author
Lorri M. Reynolds lives in Ponte Vedra, Fla. with her two children. She holds a bachelor's degree in secondary education and works as an independent sales manager and trainer. She also volunteers at the Jacksonville Humane Society. Reynolds hopes to found a non-profit organization to provide animal-assisted therapy to troubled teens. Her second book, "The Entitlement Theory: Feathering Our Children's Nests," is in the works for a planned 2013 release.
CrossBooks, a division of LifeWay Christian Resources of the Southern Baptist Convention, is a Christian publishing imprint committed to bringing more Christian voices into the publishing industry. Established authors, first-time authors, and authors anywhere in between can meet their goals and fulfill their vision for their books by publishing with CrossBooks. CrossBooks' innovative style of publishing blends the best of traditional and self-publishing. While our authors contribute monetarily to cover the cost of publishing, we maintain a strict moral and quality standard that every manuscript must meet for us to publish. For more information on publishing your Christian book with CrossBooks, log on to crossbooks.com or call 1-866-879-0502.