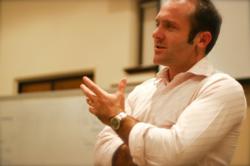 If pornography made relationships better it would have done it by now.
(PRWEB) July 27, 2012
Well known speaker, author and entrepreneur Jonathan Doyle, founder of Choicez Media has released a new website called Stop Using Pornoography.com to help both men and women better understand and overcome pornography addiction.
A recent British Parliamentary Enquiry stated that four out of every five sixteen year-olds access online pornography on a weekly. With access rates this high parents, educators and legislators are increasingly concerned about the impact of extreme content and long-term exposure upon young people.
In recent years an increasing focus has been placed upon the area of neuro-plasticity in young people, the mechanism by which neural circuits are particularly sensitive during childhood and adolescence. The ability of explicit pornographic content to create high levels of neuro-chemical change in the human brain is an area that is increasingly being explored by researchers particularly with regard to its effect upon childre.
Doyle stated, "The new website at stopusingpornography.com aims to give people a powerful tool to both understand and overcome the role of pornography in their lives. The new site provides a series of online MasterClass videos, e-books, MP3's and forums to give each person as much chance as possible to overcome the challenge that pornography can play in their lives."
In the first 48 hours after launch the site received several thousand hits from around the world.