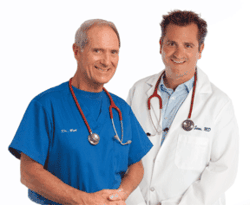 Castle Rock, CO (PRWEB) July 27, 2012
Physicians and authors, Dr. Bill Sears and Dr. Jim Sears, co-host of the Emmy Award winning TV Show The Doctors, have expanded their work to train and certify educators, referred to as "health coaches", by establishing the Dr. Sears Wellness Institute, an online educational training organization. There are over 700 certified educators in 22 countries helping the two doctors in their mission to reach as many people as possible with the best scientific-based information in the simplest way. This unique approach is better for addressing the health concerns in communities where traditional approaches continue to fall short and obesity alone adds $190 billion annually to our healthcare costs.
In the US and abroad, the number of unhealthy children, adults and seniors has seen little to no improvement in spite of the large amount of money spent and countless programs developed to move individuals towards healthier lifestyles. Nutrition-related diseases such as childhood obesity and diabetes continue to rise, as do complications in pregnancy from poor nutrition. The Sears doctors have concluded that a better approach is to make learning about health simple, interactive and fun.
Initial research conducted by The Children and Families Commission of Orange County, CA found that when participants had fun learning, they made immediate and positive changes and felt confident in their ability to sustain long-term behavioral changes. This approach is unique compared to widely used approaches that offer passive learning, complicated tools, laborious regimens, calorie counting, or when designed to combat childhood obesity, we see efforts focused only on children and not the parents.
Building upon their early efforts training individuals in the Dr. Sears L.E.A.N. families program, the Dr. Sears Wellness Institute has expanded the educational offerings. The doctors have created a more comprehensive learning environment that now includes programs for pregnancy and older adults, or seniors. "Our success with these programs," says Dr. Bill Sears, "is created by focusing on the four pillars of health we call L.E.A.N., or lifestyle, exercise, attitude and nutrition."
Since these programs created by the Sears doctors target some of the most costly areas in healthcare, the organization and its certified coaches are regularly sought out by schools, hospitals, community organizations, fitness centers, and Head Start programs. Recently, there has been an increased interest from insurance providers and companies that have embraced the doctors' simple approach to corporate wellness.
Through the Dr. Sears Wellness Institute, the doctors believe that by providing a thorough education and applying strong professional standards as part of the certification process, they will see many more health coaches have a positive impact on their communities. "Our Wellness Institute continues our commitment to provide excellent health and wellness education and services in the United States and throughout the world," said Dr. Jim Sears.
About the Dr. Sears Wellness Institute
Dr. Sears Wellness Institute exists to provide high quality professional certifications, scientifically-based educational programs, and resources that empower individuals and families to live happier, healthier, longer lives by making positive Lifestyle, Exercise, Attitude, and Nutrition (L.E.A.N.) choices. Health Coach Certifications offered by the Wellness Institute are recognized by professional organizations such as the International Childbirth Association, American Council on Exercise, the Academy of Nutrition and Dietetics, and Brandman University among others.
About Dr. Bill Sears
William Sears, MD, is one of America's most renowned pediatricians and the author of over 40 books. and Associate Clinical Professor of Pediatrics at the University of California, Irvine School of Medicine. A pediatrician for over 40 years, Dr. Sears received his pediatric training at the Harvard Medical School Children's Hospital in Boston and The Hospital for Sick Children in Toronto. Dr. Sears has been the guest on over 100 national television shows and his books have sold millions of copies. Titles include: The Baby Book, The Pregnancy Book, LEAN Kids, The Family Nutrition Book, among others.
About Dr. Jim Sears
James Sears, MD, is a Board Certified Pediatrician and co-host of the Emmy Award-winning informational talk show The Doctors. Dr. Sears is also the Children's Health Specialist for AOL Health's Medical Advisory Board and is the co-author of The Healthiest Kid in the Neighborhood, Father's First Steps, The Premature Baby Book, The Baby Sleep Book and the best-selling The Baby Book. He frequently travels the country speaking about the importance of family nutrition. Dr. Sears is most passionate about the role that nutrition plays in a variety of medical and behavioral problems.