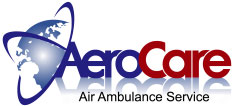 Sugar Grove, IL (PRWEB) July 27, 2012
Thursday morning, July 26 at 8:00 am CST AeroCare Medical Transport System, Inc. launched a medically dedicated Learjet staffed with a Critical Care Transport Team from it's suburban Chicago, IL base to the Centennial Airport in the Denver, Colorado area to transport shooting victim, 18 year-old Bonnie Pourciau, to a local hospital near her home in Baton Rouge, LA. In addition to the patient and medical team, both parents accompanied the patient. The patient suffered a gunshot wound to the leg and was stabilized for transport to a hospital near her home in Louisiana.
AeroCare's Learjet arrived in the Denver area at 9:08 am MST and the AeroCare medical team arrived at Bonnie's bedside at 10:00 am MST at the University of Colorado Hospital to assume care and the aircraft departed Colorado at 11:33 am MST with the patient, Bonnie and parents onboard. The patient did very well during the 2 hour and 13 minute nonstop flight and the aircraft safely arrived in Baton Rouge at 2:46 pm CST. The AeroCare team accompanied the patient via ground ambulance to a local Baton Rouge hospital and arrived at 3:15 pm CST and turned over care to the local medical team.
In the wake of this horrific and senseless tragedy, AeroCare and all of the team members involved feel very honored and privileged to have played a role in facilitating Bonnie and her families medevac flight home so that Bonnie can recuperate amongst the love and care of her family and friends.
Entering its 19th year of operation, AeroCare is a CAMTS (Commission on Accreditation of Medical Transport Systems) accredited fixed-wing air ambulance provider with bases in both the Suburban Chicago land area and Scottsdale, Arizona. AeroCare flies patients throughout the world utilizing a fleet of aeromedically equipped aircraft including Beechcraft King-Air B200's, and Lear 35A's. AeroCare's mission is to provide the highest level of safety, patient care, and customer service to each and every family that we transport. AeroCare's 24 hour Communication Center can be reached by calling 800-823-1911 or if outside the US and Canada by calling +1 (630) 466-0900. For more information visit http://www.aerocare.com.
Contact:
Joseph D. Cece
Program Director & CEO
Cell – 630-417-3300
jdc(at)aerocare(dot)com