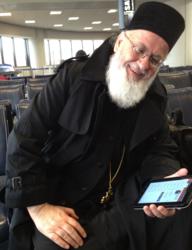 Brother Themi was a Rock Star in Australia prior to coming to America
West Caldwel, NJ (PRWEB) July 29, 2012
Heading the Charity for over 10 years is father "Rock n Roll" Themi, a Greek Orthodox priest who found his calling to tend to the poor and underprivileged well over 2 decades ago. Upon completion to the Accommodation house inside the Sierra Leone charity Father Themi was overwhelmed with joy at the quality and workmanship the locals of Sierra Leone put into the building. "Over 1 year of hard work has paid off as we are able to house specialists, doctors and more volunteers inside the mission compound. I can't express my gratitude to all the supporters who worked tirelessly to fund this project and make it a reality".
Rev Father Themi has a colorful past which led him to help the poor and underprivileged. In the 60's he played in the notorious rock n roll band "The Fly"s", touring Australia and opening concerts for The Rolling Stones. From the fast life he found his calling, becoming a reverend and devoting his life to helping.
Since the launch of Paradise Kids For Africa in Australia and Paradise 4 Kids in the US, over 10 million dollars has been raised for the underprivileged throughout Africa. Headed by International Director Louis Toumbas and US Director Gigi Souritzidis and a army of supporters throughout Australia and the US, the charity has made headlines raising record amounts to fund lifesaving projects. Since its inception in Brisbane in early 2002, Paradise Kids For Africa's supporters base has spread from the Greek Community in Brisbane, Australia to Sydney, Melbourne and other major cities in Australia. Director Mr Toumbas told us "such great enthusiasm to help the poor and sick in Africa has spread across the globe and now the US has led the way with Paradise 4 Kids.
Donations, information and upcoming news on their progress to help famine and sickness can be found on http://www.paradise4kids.org