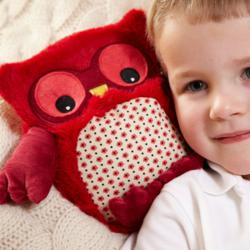 Within 90 seconds it's a Hooty™ hottie on hand!
(PRWEB UK) 27 July 2012
So how have owls found their way into the hearts and minds of fashionistas and become the fancy of fascination for children round the globe? Actually, kid's enchantment with owls is nothing new. From Winnie the Pooh to the more recent Harry Potter and Gruffalo series, owls have had a presence in children's fiction. Wise, mysterious birds of prey, silent and helpful companions of sorcerers, there has always been a certain kind of magic attached to an owls' persona.
Whilst the real thing is a little hard to attain, the next best thing is a Hooty™. It's not just a soft, furry adorable little toy for boys and girls to play with. No, Hootys™ are also heatable! That means an entire Hooty™ can be heated in a microwave. Within 90 seconds it's a Hooty™ hottie on hand! Place the Hooty™ on shoulders to soothe stressed necks. The Hooty™ won't give a hoot if he finds himself underneath you, in order to ease an aching lower back. The possibilities of how to handle your Hooty™ are huge. Out with the hot water bottles and in with the Hootys™. So it's established Hootys™ are hip and happening for adults and kids alike.
Next question. How does one procure a Hooty™? The Intelex Group, inventors of the Hooty™, supply over 8,000 retailers from Argos to Sainsbury's, Lloyds Pharmacy to Fenwick's and hundreds of independent retailers across the UK and 44 countries round the world. There should not be a problem locating a Hooty™. Alternatively, visit http://www.intelex.co.uk or phone their Hooty™ hotline on 01933 679 777 or email sales(at)intelex.co.uk.
Retailers wishing to buy in bulk, please register online to enjoy the benefits of an Intelex trade account. Minimum order value £150 and free delivery on orders over £150. Intelex's trade prices offer very attractive margins for retailers. Register today at http://www.intelex.co.uk/customer/account/create/.
END 27/07/2012
The Intelex Group are based in Wellingborough, Northamptonshire and have been established since 1995. The objective of their business was to commercialise a convenient and innovative way to relieve everyday aches and pains, through the creation of the Hot Pak®, the first ever fully microwavable herbal heat pack to be sold in Europe, which remains best-seller to this day.
Intelex's experience and expertise in this highly specialised industry is of paramount importance. All of the Intelex Group's products exceed the relevant safety standards, including the British safety standard BS8433:2004, the European toy safety standard EN71-1/2/3 and the American toy safety standard ASTM-f963.