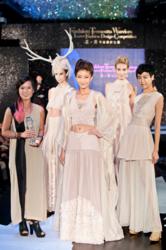 (PRWEB) July 27, 2012
To promote "The Majesty of All Under Heaven: The Eternal Realm of China's First Emperor" exhibition hosted by the Hong Kong Museum of History, the Leisure and Cultural Services Department (LCSD) and the Hong Kong Design Centre (HKDC) have jointly organised the Fashion.Terracotta Warrior Inspired Fashion Design Competition, with the Institute of Textiles and Clothing (ITC) of The Hong Kong Polytechnic University (PolyU) as the design collaborator.
Solely sponsored by The Hong Kong Jockey Club Charities Trust, this first-of-its-kind fashion competition aims to cultivate young fashion designers' imagination and creativity, as well as foster public's interest and knowledge in the Terracotta Warriors of the Qin dynasty.
The competition has received overwhelming response with 172 entries submitted by fashion design students and graduates in Hong Kong, Macau and the Chinese mainland. Among them, 19 outstanding collections were shortlisted and showcased individually by catwalk for final judging at PolyU's teaching and research hotel, Hotel ICON on 26 July.
Ms Cynthia Liu,Deputy Director of Leisure & Cultural Services (Culture), extended a warm welcome to all participants and officials at the opening ceremony. She said, "A series of public art programmes involving design based on the terracotta warriors has been organised. Fashion • Terracotta Warrior Inspired Fashion Design Competition is a highlight of these programmes which showcases the creativity of up-and-coming young designers from Hong Kong, Macau and Chinese mainland as they draw inspiration from the terracotta warriors of the Qin dynasty."
One of the contestants, Gao Wenjing from Xian, the birthplace of Terracotta Warriors of the Qin dynasty, was very excited to be one of the finalists. She said, "It's a great pleasure to join this competition with other local fashion designers and showcase our works. This show means a lot to me."
The panel of judges was made up of well-known fashion designers and seasoned practitioners of the fashion industry. They are (in alphabetical order of last name):

Ms Janet Cheung, Member, Board of Members, Hong Kong Design Centre
Ms Lesley Lau, Chief Curator, Art Promotion Office, Leisure and Cultural Services Department
Mr Walter Ma, Vice Chairman, Hong Kong Fashion Designers Association
Mr Mao Jihong, Founder, EXCEPTION de MIXMIND; President, Fang Suo Commune
Ms Nata Ngai, Fashion Editor, City Magazine
The shortlisted works were highly commended by the judges. Ms Janet Cheung said, "I am impressed by the rising standard of fashion design education in both Hong Kong and the Chinese mainland. What surprises me is the finalists could come up with those excellent works from the preliminary sketches in such a short period of time."
Mr Walter Ma also commended, "Though participants have to limit their designs to the theme of Qin terracotta warriors, the variations and individuality expressed through their collections really catch our attention. I strongly encourage fashion design students to enrich their knowledge in various areas. We look forward to seeing your works in the near future."
One of the judges Mr Mao Jihong has made a special trip to Hong Kong to join this spectacular event. He remarked, "You may expect to reveal the masculine and rustic image of the terracotta figures from the finalists' works. However, the contestants are able to incorporate the characteristics of the ancient terracotta figures into their design concepts in such a way that the collections are modern, yet retaining the Chinese elements."
As the sole provider of tertiary education in fashion and textiles in Hong Kong, ITC offers interesting and exciting opportunities to those who wish to pursue a career in the dynamic fashion and textiles industry. Since its inception in 1957, ITC is committed to educational training and development for the advancement of the Hong Kong fashion and textile industry through various research and scholarly activities.
Press contact: Miss Anne Hon
Institute of Textiles and Clothing
Tel: (852) 2766 6463