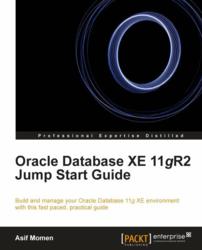 (PRWEB) July 28, 2012
Packt is proud to announce the publication of Oracle Database XE 11gR2 Jump Start Guide, a book which would help the reader understand and learn how to develop database applicaton using Oracle Application Express through step-by-step instructions along with examples for a better understanding.
About The Author:
Asif Momen has worked with Oracle technologies for over 12 years and is an expert in Database Architecture, Performance Tuning, and High Availability. He is honored by the prestigious Oracle ACE award from Oracle Technology Network. He has also been the presenter for various conferences such as Oracle OpenWorld-2010, All India Oracle User Group (AIOUG), and Brain Surface.
Oracle Database Express Edition 11g is an entry level and a small footprint database based on the Oracle Database Release 2 11g code base. It is also free to develop, deploy and distribute. This book would help in understanding different Database Editions and guide the reader through the procedure of installation with the help of screenshots as examples.
It helps in providing a better understanding of the physical and logical components of Oracle such as SGA, PGA, Tablespaces and Flash Recovery Area. In short, this book would help readers get started with Oracle Database administration and would prove useful for Developers, DBA's, Independent Software Vendors, Educational Instituitions and students.
Some essential chapters covered in this book are -
Chapter 1: Database Editions and Oracle Database XE
Chapter 2: Installing and Uninstalling Oracle Database XE
Chapter 3: Connecting and Configuring Oracle Database 11g XE
Chapter 4: Accessing Table Data, DML Statements, and Transactions
Chapter 5: Creating and Managing Schema Objects
Chapter 6: Developing Stored Subprograms and Triggers
Chapter 7: Building a Sample Application with Oracle Application Express
Chapter 8: Managing Database and Database Storage
Chapter 9: Moving Data between Oracle Databases
Chapter 10: Upgrading Oracle Database 11g XE to Other Database Editions
Chapter 11: Backup and Recovery
Chapter 12: Tuning Oracle Database 11g XE
Packt has also published various related titles :
Oracle APEX Best Practices ( Expected August 2012)
Oracle 11g Anti-Hacker's Cookbook (Expected August 2012)
Business Intelligence Cookbook: A Project Lifecycle Approach Using Oracle Technology (July 2012)
Packt Enterprise is a leading publisher of Enterprise books for Oracle, Microsoft, IBM, SAP, Citrix and other technology companies. Packt Enterprise develops books for Architects, Developers, Administrators and end users alike.