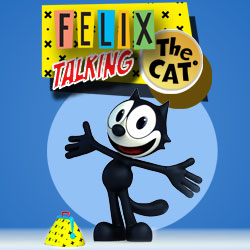 The world´s most famous cat!
NEW YORK (PRWEB) July 31, 2012
Fans of the classic Felix the Cat characters will opt to download the free Talking Felix the Cat app for iphone developed by Genera Interactive, parent company of Talking Toys. Poke him and watch his funny his reactions! You and Felix can play your favorite songs with his his Rockin' custom Felix the Cat electric guitar, as well as play his mini climbing game, he also dances, juggles and you can also send personalized messages your friends.
Felix the Cat's image began as a quirky adventurous cat in silent black and white movies, and was a very popular through Comic Strip's worldwide where he starred with his famous yellow bag of tricks. At this point Felix the Cat was so popular that he was chosen by Charles Lindbergh to be his lucky mascot on his historic transatlantic flight.
Felix the Cat's popularity spread to be included on the Disney Channel, the famous New York City Macy's Thanksgiving Day Parade, international fashion runways, and multitude of television shows, movies and appearances with some of the biggest stars.
Through extensive research and development, My Talking Toys and Genera Interactive seamlessly accomplished adding this digital mobile application to the extensive library of officially licensed Felix the Cat products.
About Talking Toys
Talking Toys is a leading international mobile content developer that specializes in multi-platform entertainment and utility applications. The company has developed amazing applications, generated millions of users and provided solutions for brand partners and leading media companies on multiple platforms including iPhone/iPad, Android, Blackberry, Windows Phone 7 and more. For more information about Talking Toys please send an email to migueltoledo(at)generamobile(dot)com
or visit the web page http://www.mytalkingtoys.com
About Felix the Cat
Felix The Cat Productions is a diverse international entertainment company that has achieved historical milestones and created smiles to millions all over the world. Having a humble beginning as a silent film studio, Felix The Cat Productions was one of the first major animation and design companies. Since then, the mission of the Felix The Cat companies is to be a leading provider of family entertainment through its iconic animated properties. For more information regarding the Felix The Cat brands, please contact: info(at)felixthecat(dot)com
For media inquiries, please contact:
Miguel Toledo
Talking Toys PR/Markeing Manager
migueltoledo(at)generamobile(dot)com
+34 657.181.682