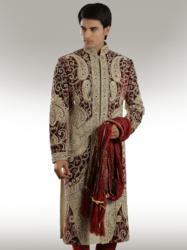 Any Size, Any Length; We customize for you
(PRWEB) July 27, 2012
Mybatua.com is a leading International online store of Islamic clothing offering elegant traditional wedding dresses with cutting-edge fashion appeal at affordable prices.
Mybatua Muslim wedding dresses are special and unique. Theses Wedding dresses come in many styles and designs. Elegant Sherwanis come in multiple colors with beautifully done hand embroideries latest trends. Mybatua online store carries a wide selection of wedding suits and accessories and caters almost all sections of the community.
MyBatua Designer Sherwanis - Sherwanis are not only preferred dress for modern day grooms but also serve as elegant formal attire. "Mybatua sherwani" always show groom's unique sense of style, confidence and sophistication. The sherwani collection of mybatua.com is completely handmade with heavy embroidery work. The special service to customize the size and length is also available for sherwanis.
Wedding ceremony shopping at MyBatua.com is always a delight for its customers due to the quality of work, designs, embroideries and sizes with an appeal of creative styles, urban fashion and contemporary trends.
Special 10% discount offer on shopping during the month of Ramadan is also extended on wedding dresses for the customers of MyBatua.
The store also serves to wholesale distribution. The MyBatua.com ships all over the world including U.S, U.K, Canada, Europe, Australia, Japan, South Africa and many more.
MyBatua.com is a leading online retailer of high quality wedding and bridal accessories and personalized gifts. If customers are looking for something unique, a little different and maybe even exclusive then MyBatua.com is the perfect place for them to shop.
MyBatua offers a huge selection of high quality and designer muslim wedding accessories that reflect the latest trends. The store has new wedding product line and unique handbags as wedding accessories that provide the perfect finishing details for the bride.
Shoppers of Islamic wedding dresses including bride and groom will surely enjoy new collection at MyBatua store and enhance the joy of wedding celebration with this dress collection of their dreams.