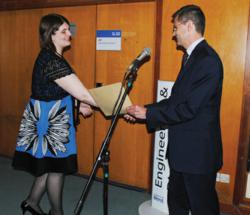 It's absolutely fantastic news that from the 44 final-year engineering student projects undertaken at UKC, Haag-Streit UK-sponsored students managed to receive 3 of the coveted 6 prize awards
Harlow, Essex (PRWEB UK) 31 July 2012
There was much to celebrate at the University of Kent, Canterbury (UKC), on Thursday 12th July, as the graduate Engineering students attended the School of Engineering and Digital Arts, 2012 awards and prize-giving ceremony.
Emma Barden (pictured receiving her prize from Haag-Streit UK Managing Director, Dean Johnson) was awarded the Haag-Streit UK-sponsored prize for best Biomedical Engineering Project, for her research involving the development of an imaging system for checking the quality of Goldmann tonometer prisms.
Emma commented, "I'm absolutely thrilled to have won the award. It has been such a privilege to work on a Haag-Streit UK-funded project that may someday become a commercialised product."
Emma, who graduated from UKC with a first class honours bachelor of engineering degree in Electronic and Communications Engineering, will soon be embarking on a prestigious graduate engineering programme with Roke Manor Research Limited, located in Southampton.
Other HS-UK sponsored project prize winners included; Anthony Chee, who won the BAE Systems prize for most outstanding project, for his research into the development of a software-based Synoptophore, integrating 3D stereo glasses; and Anu Varkey, who won the IEEE UKRI Chapter prize for best performing final year student, for her project in relation to the development of a digital display for the Perkins Mk3 tonometer.
Dean Johnson, Managing Director, Haag-Streit UK said, "It's absolutely fantastic news that from the 44 final-year engineering student projects undertaken at UKC, Haag-Streit UK-sponsored students managed to receive 3 of the coveted 6 prize awards."
Dean continued, "I was glad to hear that Emma, along with many of the other students, managed to find employment within the field of engineering. They really are a talented group of young engineers destined to have a bright and rewarding future awaiting them in industry".
For more information please contact Haag-Streit UK on (01279) 414969.