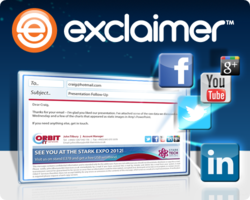 When it's a joke, a mess or a logo from 1996, you make the brand look bad.
London, England (PRWEB UK) 28 July 2012
Email signatures tool maker, Exclaimer, have launched a list of six signature mistakes – with some tips on how to avoid them.
They say the list is to help stop an unprofessional or inappropriate mail from hurting a brand – and its sales.
Brad Shepard, product manager began, "it's not as simple as you think. But it's not as hard as the less tech-savvy might fear.
"The key is this: see it as part of a whole. To contacts, it's not 'your' signature, it's your company's. When it's a joke, a mess or has an old logo from 1996, you make the brand look bad.
Here are our six tips to help make your brand look tip top on mail:
1. No Funny Business
Don't put a goofy pun in your Outlook signatures, like '(I wish) this was sent from outside the office'. If it's on personal mail, fine. But if it's corporate mail, you never know who will see it.
You might mail it to someone you have a great rapport with – but what if he happens to send it to his boss? And what if he then sends it to yours? Once mail leaves your desk you lose all control over it.
Just think for a few seconds before pressing send.
2. Be Honest
Don't put an inflated title on your signature – with LinkedIn and Google it's too easy to go and look it up these days. I like job titles like 'Wifi Pixie' and 'Supreme Being' – but your boss or key client might not.
Or if it's just overblown, say it goes from 'clerk' to 'senior clerk' or 'chief clerk'. When someone spots it or says it in front of your manager – you won't feel so senior.
We suggest you make your job title link to your LinkedIn profile. Or use a small LinkedIn image and link that straight to your page.
It's too easy to check up on facts these days. Don't fight it – use it.
3. Spell Well
It's so, so easy to stop this. If you're not sure of a word, copy it and paste it into Google with 'dictionary' after it. Look, you're a better speller already.
We think the way to go with this is to get control of everyone's signature. You will get disagreements and that can be just as bad. One 'line controller' might work next to a 'line-controller' – which is it?
Flipping back and forth is not good. Set the standard and make all mail match it.
4. Line Up
So, say there's a signature that all staff use. But your name is 'Hamilton Carter-Garretson'. What do you do? Build it with long names in mind.
It's their name – you can't make them change it. Make sure your official signature has some room for the name (and job title) to stretch. It doesn't just make you look bad, you look a little insensitive.
The whole world is not named 'Ed Linn' – though it is a lovely name. Some of us have long family names, some of us have married and hyphenated our names.
Don't look out of touch. Use a tool to edit the style and try to get out a little more – learn people's names.
5. Link Right
So you've got a 'Karen.Green@greenorg.net' in your signature, it's blue and underlined. Clicking it must open an email with that address in the 'To:' slot, right?
Wrong. If you've just copied a friend's signature and changed the address you can see, you've made a big mistake.
Like a link to a web page, it has a URL. Instead of google.com it has 'mailto:Ed.Linn@greenorg.net'. If you don't open the HTML and change that, clicking your address will start a new message to his address – not yours.
Use a tool to work out snags like this and give each member of staff their own pre-made version – not something to copy and paste.
6. Get With The Times
No one will urgently need your fax number. If you're still in dire need of it – and you might be at some point – you can bet there will be time to send someone a quick message to tell them what it is.
Use the details that you really need – and no more. The trouble is that's different for all staff.
Tech support might want their out-of-hours numbers on there but accounts might want the fax line after all.
It looks bad if you've got ninety different logos in use. You'll look very small-time indeed. But you want it to match the various needs of each team.
Software and tools for Exchange signatures, Office 365 signatures and features like them are – we think – the way to go. 'Wifi Pixie' is not."