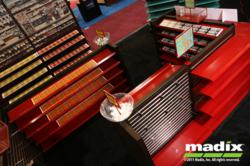 Retailers invest a great deal of time and money into creating positive relationships with customers that generate maximum profits and repeat business," said Shawn Kahler, Vice President of Sales and Marketing for Madix.
Terrell, TX (PRWEB) July 29, 2012
The process of checking out at most retail stores invariably puts the needs and wants of customers against those of retailers. Customers want short lines and quick processing once they arrive at the checkout area. Conversely, retailers use checkout areas as one last opportunity to slow down customers to consider impulse purchases of high-margin merchandise. With the new customizable and scalable queuing fixture systems http://www.madixinc.com/display/queuing/ from Madix Inc., a leading U.S.-based manufacturer of retail fixtures and shelving, those two contradictory needs can actually be happily married in a way that satisfies customers and retailers alike.
"Retailers invest a great deal of time and money into creating positive relationships with customers that generate maximum profits and repeat business," said Shawn Kahler, Vice President of Sales and Marketing for Madix. "That's why it's hard to understand why more attention isn't given to turning the checkout areas of stores into a satisfying brand and sales-enhancing experience rather than one that frustrates shoppers and creates a bad conclusion to what should have otherwise been a positive shopping experience."
Kahler said the new Madix Queuing Fixture Solutions include a multitude of options that can be designed for stores both large and small with little to no reconfiguration of existing checkout areas. Costs of such systems vary depending on the merchandising strategy of the retailer. However, Kahler said early adopters of Madix queuing systems have seen their investments quickly offset by the generation of incremental sales made possible by a streamlined, more targeted presentation of merchandise, especially of the core front-end power impulse sales categories of magazines, candy, salty snacks and beverages.
"We've all experienced checkout lines that seemingly throw everything at customers but the kitchen sink in an attempt to entice them to purchase one last item or two while waiting in line," Kahler said. "However, this overstimulation of customers with cluttered, inconsistent POS displays is not a smart merchandising strategy. Instead, a single-line queuing system that properly processes customers in an efficient, professional and timely manner while exposing them to consistent product and service offers can generate tremendous incremental sales as well as positive brand-building results and customer satisfaction."
Building a more efficient, profitable and brand-enhancing checkout process for customers starts by replacing a customer's line choice decision with a queuing system that equitably feeds them to the first available cashier, according to Kahler. "Single-line queues are smart in many ways," he said. "They allow retailers to more effectively leverage any wait time to make a consistent presentation of impulse merchandise and service offerings within the context of the queuing fixture itself. Such queues also allow retailers to more easily gauge and manage manpower needs for checkout stations. Most of all, when done properly, this approach sends a clear message to customers that the retailer understands their frustrations and is doing what it can to efficiently and effectively process their transactions. It's truly a win-win for retailers and customers alike."
Kahler said that one often overlooked subtlety of a single line queuing system is that it allows customers to focus on brand, sales messages and merchandise staged within the queuing fixture rather than obsessing about the carts in front of them or experiencing line remorse for choosing a slow moving line. In fact, he said the ROI from the first adopters using Madix queuing fixture systems have seen as much as a 2-percent lift in overall store sales with an accompanying increase in customer satisfaction.
Madix's customizable queuing systems employ a wide variety of mounting systems and frames that can be used to communicate information or stimulate impulse sales. This includes such things as tube line metal shelves, slatwalls, acrylic bowl mounts, end frames, wire acrylic troughs with signs, full and half uprights, tie bars, candy shelves, wire utility baskets, clear plastic bowls, side decks and much more depending on the retailer's goals. Systems can be designed to accommodate customers with or without carts. For more information on the Madix Queuing Fixture Systems or to schedule a consultation with a Madix retail sales consultant, visit http://www.madixinc.com/display/queuing/.
About Madix, Inc.:
Headquartered in Terrell, Texas, Madix is one of the largest store fixtures companies in the world, manufacturing thousands of products including store fixtures, specialty products, heavy-duty racking, wire and wood displays. Madix serves customers across North, Central, and South America, Europe, and the Middle East. The company employs over 1,500 people in its state-of-the-art manufacturing facilities in Terrell, Texas, and Goodwater and Eclectic, Alabama. Madix has warehouses throughout the United States and one in the United Kingdom.
Formed by the merger of Dixie Craft Manufacturing and Maytex Store Fixtures in 1982, the family-owned business has expanded its manufacturing facilities to include over 2.4 million square feet. Madix claims a rich history of technological innovation honed from extensive field research, cutting edge product development, and world-class delivery and installation solutions. Computer-automated order processing and manufacturing tracking systems control product costs, ensure quality control and speed of delivery. Madix works in partnership with retailers and national brands in a range of industries to design and facilitate the use of fixtures and racks for retail stores. National Installers, an affiliated company, provides installation services. For more information, visit http://www.madixinc.com.
###