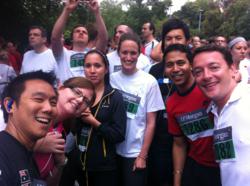 Raising money for good causes is important for any organisation and we're very proud to continue to support Sparks
London (PRWEB UK) 31 July 2012
Avanta, the leading provider of flexible work space and support for growing businesses, has raised almost £4000 so far this year for Sparks. Money has been raised throughout the year for the children's medical research charity as well as from one-off sponsorship events, many of which took place in July.
So far, in 2012 Avanta has raised £2,478 from its meeting room donation scheme, where £1 is donated by the work space provider each time a meeting room for over ten people is booked. This scheme will continue to run until the end of January 2013.
In addition, 13 members of the Avanta team raised money for the charity by taking part in the JP Morgan Corporate Challenge, joining some 13,000 other participants from 285 companies to brave bog-like conditions and run a sponsored 5.6k in Battersea Park.
The following day Avanta took a table at the annual Summer Race Night in Epsom, which raised £55,000 on the night for Sparks.
Commenting on this year's charity fundraising, Avanta CEO Alan Pepper said, "Raising money for good causes is important for any organisation and we're very proud to continue to support Sparks through our meeting room initiative and events like the JP Morgan Challenge.
"We developed the meeting room scheme because we felt it was the best way to spread the word about the great work they do, and the benefits they provide, to a much wider audience."
As a leading children's medical research charity Sparks is dedicated to funding and championing pioneering research into a range of conditions affecting babies, children and mums-to-be. Through the research it funds it aims to improve the quality of life for children and families affected by serious illness or disability today, whilst seeking ways to better diagnose, treat and prevent these conditions in the future.
"Avanta has been a loyal and valuable supporter of our work for a number of years," comments Faye Matthews, Head of Corporate Partnerships at Sparks. "Sadly, in the UK, 1 in 30 babies are born with a medical condition which may affect them for life. Our goal is for every child to be born healthy and stay healthy and the wonderful funds raised by Avanta will help us to continue our pioneering medical research and enable us to touch the lives of those children who need our help."
For more information about Avanta's meeting rooms, and to book, please visit http://www.avantameetingsolutions.co.uk
Issued by Flagship Consulting
For further media information please contact:
Will Brewster 020 7886 8461 will(dot)brewster(at)flagshipconsulting(dot)co(dot)uk
Laetitia Redbond 020 7886 8457 laetitia(dot)redbond(at)flagshipconsulting(dot)co(dot)uk
About Avanta Managed Offices
Avanta Managed Offices Limited was formed in 2004. The company offers high quality and cost effective serviced offices, meeting rooms and virtual offices in prime locations throughout London and the UK. All its business centres are managed by highly trained, Institute of Customer Service accredited teams, an industry first. Avanta operates 660,000 sq ft of office space across 18 buildings in the UK, and one in New Delhi, India.
For more information, please visit http://www.avanta.co.uk or call +44 (0)870 0493 401.