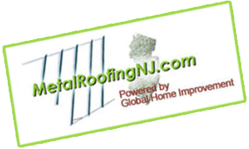 Hoboken, NJ (PRWEB) July 30, 2012
People along the Jersey Shore coastline can turn to Metal Roofing NJ for help during the 2012 hurricane season, as the company has just announced services to the help those Jersey shore residents seeking to get their homes ready for the hurricane season. According to an estimate by meteorologist George Prouflis, the chances for a direct hit by a hurricane on the Jersey shore each year is 1 in 200. The Jersey shore is an ideal place for Metal Roofing NJ to replace old shingle roofing with a sturdier metal roof to avoid any damage to Jersey shore homes.
All of Metal Roofing NJ's roofing materials meet Miami-Dade county certifications for wind rating in coastal environments, to ensure proper protection. One of the main reasons why Metal Roofing NJ's roofs work so well is because they are more durable than the competition. In all climates, roofs are often subject to severe winds and damaging rains; but in hot climates, they also endure intense heat and an extremely high amount of sunlight. Most of the time, heat and sun cause most roofing materials to break down rapidly, causing them to dry out, break, twist, and crumble. As this happens, their lives are shortened and they become more vulnerable to leaks and wind damage. This is why it is important for people who own homes on the Jersey shore to contact Metal Roofing NJ to install metal roofing to their home.
Shore roofs must have root ties connecting the roof framing to bearing walls and covering fasteners. All roofs must be hurricane resistant and have adequate roof venting in case a major storm or hurricane approaches the shoreline. These requirements are necessary for a home to fight off a dangerous climate.
Clients around New Jersey have been impressed with Metal Roofing NJ's dedication to their work. "I am writing you this e-mail to let you know that we are extremely happy with the work! We are the type of people that hate to hire folks to do work for us because we are perfectionist and want things done right. Your crews did things exactly how we wanted and cleaned up every day to our satisfaction. Our house is finally complete and it is beautiful."-Karen M.
Call Metal Roofing NJ at 888-385-8461 to set up your free metal roof estimate. Also visit metalroofingnj.com for more information.