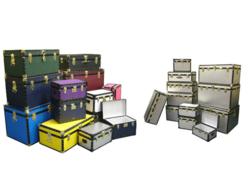 These trunks and cases are designed for hard use
(PRWEB UK) 30 July 2012
Mossman Trunks are manufactured in the UK and is a wholly owned subsidiary company of 5 Star Cases Ltd. These trunks and cases are designed for hard use and are suitable equipment for valuables during worldwide shipping, cruising, school and university. These specialist trunks and cases are manufactured from quality plywood and have been bonded with a covering of either PVC or Aluminium and edging and extrusions are added of the same materials. Using bifurcated rivets produce permanent and durable fixings on these gorgeously designed trunks.
The team at Luggage Superstore agrees that these trunks exude class and style and shouts durability for many years to the proud owners of Mossman Trunks. So, whether you are heading off to boarding school, shipping your belonging inland or overseas, these cases would see you beyond that gap.
With an extensive range of stylish handmade trunks, the Mossman Trunks remain at the forefront of storage trunks production.
Luggagesuperstore established site is in West Kingsdown, Kent. Their aim is providing competitive prices of the highest quality luggage and top calibre Customer Service for online luggage shopping.
Trina Chee-a-kwai
Luggage Superstore
01474 854666
Email information