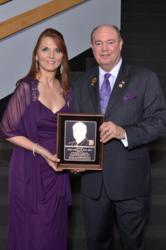 The auction industry has been very good to me and being a part of it has been a blessing.
Kansas City, MO (PRWEB) July 30, 2012
Little did anyone know back in November of 1978 that a skinny kid wearing red suspenders pumping gas at a Texaco service station in North Texas, would leave Dallas on a Braniff flight to Kansas City that would change his life forever and ultimately land him in the Auctioneer's Hall of Fame.
Mike Jones, CAI, BAS, GPPA, president of United Country Auction Services, headquartered in Kansas City, Mo., was inducted into the Auctioneers Hall of Fame during the National Auctioneers Association Conference and Show on Thursday, July 19 in Spokane, Wash. Jones is the first and only member of the 63-year-old professional organization to attain the auction "Triple Crown". He is the 1998 International Auctioneer Champion, served as NAA president from 2004 to 2005 and is now a 2012 Hall of Fame inductee.
"This is truly a dream come true and so humbling," said Jones. "The auction industry has been very good to me and being a part of it has been a blessing. This award is the culmination of over thirty three years of hard work, thousands of auctions, thousands of miles on the road and could not have happened without the support of my family, clients, buyers and the folks who worked so hard for me over the years.
"When I was about ten, I knew every owner of every business in downtown Gainesville," said Jones. "During the '80s we ended up working for a good number of them as they retired and sold their businesses at auction."
Originally branded as Mike Jones Auctioneers & Liquidators, Jones changed the name to Mike Jones Auction Group when he moved the company to Dallas in the early '90s. Since that time, he has conducted over 3,000 auctions, including the sale of hundreds of Western Auto Stores, Montgomery Ward, Lowes and others. A career highlight was an $18 million dollar sale of FEMA trailers in 1996 that set a General Services Administration, US Government sales record at the time. Jones held the contract to sell Dallas Independent School Surplus for over 20 years.
In 2006, he joined United Country Real Estate, headquartered in Kansas City, Mo., and started United Country Auction Services. Today it is the country's largest integrated real estate and auction company with over 550 offices, 4,000 agents and brokers, and over 200 auctioneers. Jones commutes weekly from Dallas to Kansas City and has added international company expansion to his list of responsibilities. United Country affiliates conducted 4,900 auctions over the past two years. They are the largest land auction company according to The Land Report.
"The introduction of auction service to United Country is a critically important part of the successes we are experiencing today as we seek to better serve our client's needs," said Dan Duffy, chief executive officer for United Country Real Estate. "Mike's leadership and our shared vision for the creation of the traditional real estate/auction services blended model of marketing is one of the most innovative initiatives the real estate industry has experienced in a long time."
Jones conducts over 100 benefit and fundraising auctions per year for 501 ( C ) 3 organizations across the United States, including Scottish Rite Children's Hospital, American Heart Association, American Cancer Society and others. You can find him just about every Saturday in support of Texans Can!, also known as Dallas Can Academy, where he and his United Country team will raise over $6 million this year to help take at risk teenagers off the street and place them back in school to obtain their high school diplomas. In 2007, Jones received the Horizon Award from St. Jude Children's Hospital for his dedication to the children of St. Jude.
In addition to United Country Auction Services, Jones and Lori operate the Texas Auction Academy, one of the country's largest auctioneer training schools. The Dallas-area-based school has trained over 2,000 auctioneers and is celebrating its 20th Anniversary.
About United Country Auction Services
United Country Auction Services is a division of United Country Real Estate, the largest fully integrated network of conventional and auction real estate professionals in the United States and Central America. The company has been an innovator in real estate marketing since 1925. United Country supports nearly 550 offices across the U.S., Costa Rica, Panama and resort areas of Mexico, with a unique, comprehensive marketing program that includes one of the largest portfolios of property marketing websites (more than 3,000 separate sites and traffic of approximately 3 million visitors per month), multiple United Country real estate catalogs with national distribution , an extensive buyer database and national advertising of local properties that reaches more than 90 million homes per week. United Country has recently been recognized by Franchise Business Review, AllBusiness.com, The Land Report, Entrepreneur and The Wall Street Journal as one of the top U.S. real estate companies.
# # #