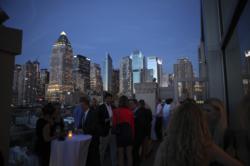 New York, NY (PRWEB) July 30, 2012
Carbon NYC partnered with Personal Cell Sciences for the launch of a revolutionary new skincare system called U AUTOLOGOUS at their Fountain of Youth Cocktail Party on July 25th. Close to 200 Carbon Members and guests attended the launch party at MPE Penthouse and enjoyed specialty cocktails, music by DJ Natasha Nova and hors d'oeuvres from Tastings NYC. The founder of Personal Cell Sciences, John Arnone, and leading clinical investigator for the brand, Dr. Fredric Stern, were on hand to introduce their latest product, which utilizes a person's own adult stem cells to create bespoke skincare programs for those looking to tap into the 'Fountain of Youth'.
U Autologous by Personal Cell Sciences is a ground-breaking new range of anti-aging skincare products, created using the healing and regenerative power of your own adult stem cells. In one of the most ground-breaking forays into the use of genetic medicine for cosmetic purposes, U Autologous has been clinically proven to reduce the appearance of skin damage, drastically decrease wrinkles, and minimize signs of aging, The line includes a firming serum, moisturizer and eye cream made just for you, literally. Each cream is genetically unique and custom blended in the Personal Cell Sciences laboratory deriving its key ingredients from the individual client's own stem cells. After all, each person's skin is dramatically different, so why use the same generic cream?
Carbon is a New York based, invitation-only, social network of leaders in international business, technology, politics and the arts. Criteria for Membership are outstanding professional achievement, a strong character and a demonstrated passion for non-work related pursuits, including the arts, philanthropy, technology, sports and leisure. Carbon provides its Members unique programming, such as the Salon Speaker Series, social events in New York's most exclusive venues, regular poker tournaments and access to leading luxury brands. The foundation of Carbon Membership is integrity and a commitment to actively participate in events and support other members professionally and personally.
For inquiries, please contact:
Info(at)CarbonNYC(dot)com
Tel: 917-991-8243