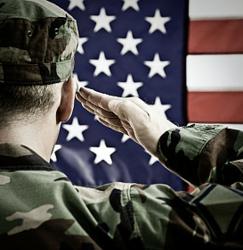 Fortunately for ABS, military training combined with help desk support experience has prepared all of these veterans to serve our clients with the same standard of excellence that they served the USA.
Schaumburg, IL (PRWEB) July 31, 2012
As a 100% US based help desk outsourcing provider, ABS Associates, Inc. employs an all American staff from diverse backgrounds so it should be no surprise that many of its personnel are culled from the ranks of the United States Armed Forces. A company that prides itself in seeking service desk agents with Personality, Energy, and a Professional presence (PEP) returning service men and women have become a logical choice in ABS's own recruiting efforts. With daily IT challenges such as high call volumes, client outages, and new application deployments, ABS relies on service desk agents to be fully prepared and ready to serve its clients. So it helps to have disciplined, organized, and results oriented veterans on its team as they have in many cases dealt with comparatively more stressful deployments in their earlier, and in some cases current, careers with Uncle Sam. A few of these proud veterans discussed how their military experience and training prepared them for a career at ABS.
Jeron, a Sergeant in the US Army with secret clearance who still serves one weekend a month as a Temporary Placement Unit (TPU) soldier, completed two tours in Iraq and one in Afghanistan before joining ABS as a Level 1 agent. Although most of his daily IT related tasks in the Army included supporting Active Directory, password resets, ticket troubleshooting, and network routing protocols, Jeron also located and disabled roughly 65 Improvised Explosive Devices (IEDs) while deployed in Afghanistan. "Regardless of whether you're IT, you're still a soldier," says Jeron with a smile. "And that military bearing goes along with customer service. You may not always get a pleasant customer, but you have to remain cool and professional, place a ticket, troubleshoot, and provide results."
Jeron had an option to build a mobilized unit in El Paso, Texas before he got the call to serve ABS's clients. Raised in Chicago area suburbs not far from ABS headquarters, Jeron is glad to be back home with his daughter and the rest of his family.
Charles served honorably for 5 years in the Navy as Petty Officer 3rd class on board the USS Saipan, a Tarawa class amphibious assault ship that was the home of 1,000 sailors and 1,500 marines. As a Navy electrician, Charles was in charge of the basic electrical maintenance of the ship including subsystems such as the ballast tanks and stern gate that launched the Landing Craft Units (LCUs), bringing the marines and their equipment to shore. "Being in the Navy prepared me for life in general," says Charles. "The Navy taught me to be punctual, to follow through on issues, and to speak to several different types of people with respect. There were people from different backgrounds, different religions, and different cultures all working as a team to keep the ship afloat."
Charles is currently a Remote Level 2 Agent supporting various ABS clients and, in addition to enjoying the "balance between technical knowledge and social interaction" at ABS, he relishes the responsibility of seeing Level 2 issues through to resolution.
Chris retired from the Navy after 20 years of service as a Petty Officer 1st class and sonar technician providing LAN administration as well as self described "basically fix it" duties while serving aboard four different submarines (USS Aspro, Hawkbill, Cheyenne, and Bremerton) during the course of his career. Chris, who joined the Navy in July 1990, only a month before the Gulf War began, was aboard the first boat to launch missiles against Iraq during the shock and awe campaign. "On a submarine we're pretty much a tight knit family," recalls Chris fondly. "You have to rely on everyone around you to be able to save your life and you can't just jump overboard like on a surface ship. You learn to adapt to and overcome any obstacle you encounter."
Adds Chris, "In the Navy, there's no such thing as Tier 1, 2, or 3 so I learned how to take ownership of problems and then get them fixed and now I'm just applying that same philosophy at ABS." An affable and outgoing Level 1 agent whom end users ask for specifically by name, Chris's people skills were also recognized while he was in the Navy as he was awarded the role of Recreation Committee President and was a party planner and host for three different Christmas events. His fellow sailors still remember it to this day as the best party they ever had due to Chris's diligence with the catering menu, choosing the right venue, and greeting all attendees personally throughout the night.
Zakkery was the youngest Army Sergeant in his battery and was a squad designated marksman during his four years of service, six months of which was in Iraq. "My duties were to follow orders," says the Kansas native wryly. "We'd go through villages and perform the classic mission of winning the hearts and minds of the locals whether that entailed giving kids candy, playing soccer with them, or talking to the families and helping them with anything they need." Zakkery went on to describe how once they even stopped to assist a group of civilians change the tires on their pickup truck.
But despite the humanitarian aspects of Zakkery's service, the harsh realities of the conflict, much of which was among the Iraqi people themselves, would interrupt the more lighthearted moments. "In a lot of these villages there were wounded or sick women and children," Zakk continued. "IEDs sometimes hit civilians. Religious militia would get into fire fights with each other." Through it all, Zakkery picked up strong leadership skills such as learning to organize and prioritize his tasks and "focus on there here and now" versus getting distracted by personal issues on the home front. Consistent with his fast tracked promotion in the Army, Zakkery hit the ground running at ABS and was handling Level 1 help desk issues via email and phone contacts sooner than most agents.
"Fortunately for ABS, military training combined with help desk support experience has prepared all of these veterans to serve our clients with the same standard of excellence that they served the USA," says ABS CEO Rosemarie Mitchell. "We're proud to have them on our team."
About ABS Associates, Inc.
Founded in 1982, ABS Associates is a global IT solutions provider of helpdesk, desktop, managed hosting and network support and services. The mission of ABS is to make technology work for our clients, whether that means implementing an onsite or virtual helpdesk, hosting complex applications, or resolving problems with servers. ABShelp™, the company's web-enabled global knowledge center, assumes the burden of IT support, eliminates distractions, and allows firms around the world to concentrate on achieving strategic business objectives. ABS delivers a 97%+ satisfaction rate and serves clients throughout North America and in 14 countries around the world.