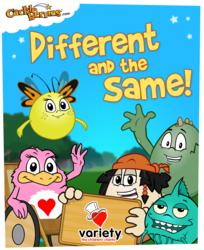 As a mom, I know that there just aren't enough picture books on the market that represent children with disabilities.
Burnaby, B.C. (PRWEB) July 30, 2012
The publishing team at Cackleberries Entertainment has just released its first book on Amazon Kindle that features characters from its educational, online virtual world called Oville.
"Different and the Same" is an early reader designed for beginner readers in preschool through grade one. The book was also created to fit the theme of the game's virtual Variety House which is all about teaching young children about accepting differences and understanding special needs. This book is another way that Cackleberries helps support Variety International, the Children's Charity.
Laura Thomas, Director of Writing for Cackleberries, said, "Inside our character houses and in the Oville library, we have several picture books that are going to make their way to Kindle and print soon as well. But, this was the perfect book to release first. Our partnership with Variety is critical. And, as a mom, I know that there just aren't enough picture books on the market that represent children with disabilities."
In keeping with the theme of accepting diversity, "Different and the Same" depicts a physically challenged character called Charitee—Cackleberries' ambassador for Variety International the Children's Charity. Charitee lives in a virtual Variety House in which players can learn more about special needs and play games that help Charitee as well do activities that teach them valuable skills such as the American Sign Language alphabet.
This first book features a simple vocabulary, repetition, near rhymes, and colourful illustrations that will encourage even reluctant readers. The company's second book to hit Kindle—"Finding Snoggler"—will be a traditional picture book with a slightly more challenging reading level and story that features Charitee as the protagonist.
"Different and the Same" will be available in a print edition on Amazon in the coming weeks. When asked what other literary projects the company is working on, Thomas said, "We are developing an Oville novel, something for the "How to Train Your Dragon" and Harry Potter market. It's a book that children in grade three or four can read on their own or that a parent or teacher would read to younger children."
Cackleberries CEO, Eronne Foster, said, "I am really pleased that we are getting our books beyond our virtual bookshelves in Oville and into the hands of children and families around the world. Education is extremely important and our books not only help children learn to read, they also teach important life skills like learning to accept others for who they are. 'Everyone belongs' is a central theme in Oville and it's a message our company is eager to spread."
To purchase a copy of "Different and the Same," please visit Amazon Kindle. To get a free membership to Oville that includes a host of learning games, music, activities, and books, please go to http://www.cackleberries.com. To keep up with Oville's latest educational games, books, music, and cartoons, follow Cackleberries' Facebook page.
Cackleberries is a children's edutainment (entertainment and education) company offering a website, animation, toys, games, music and more. Most importantly Cackleberries introduces young children, three to seven, to online education with a dedication to keeping them safe. Cackleberries protects children from the internet with the latest technology, provides family-friendly content, and never advertises to children. The living virtual world of Oville is a place for children to learn and play in a guaranteed safe environment.