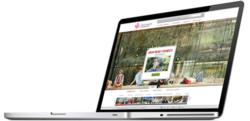 "We believe the user experience created by NavigationArts will be a game-changer for Saint Joseph's University and a breakthrough for higher education sites in general."
McLean, Virginia (PRWEB) July 27, 2012
NavigationArts is pleased to announce the launch of a new website for Saint Joseph's University (SJU), a private, coeducational Roman Catholic Jesuit university located in Philadelphia, Pennsylvania. Founded in 1851, SJU advances the professional and personal ambitions of men and women by providing a demanding, yet supportive educational experience. SJU partnered with NavigationArts to improve the structure and usability of their site, while also finding a new way to engage and attract prospective students.
NavigationArts created a new user experience design to marry user goals with the overarching strategic goal of surpassing the competition and giving potential students a rare inside view of campus life. NavigationArts utilized dramatic imagery that allows prospective students to self identify. Social integration, mobility, unique visuals, intuitive nature and interactive/"game-like" design were top selling points of the prototype, test-driven by high school seniors.
A robust and scalable Content Management System (CMS) platform was essential to handle the new requirements and allow for continued evolution of the SJU site. Together, NavigationArts and SJU decided on Drupal, the popular, open-sources CMS supported by a passionate community of users and developers.
"We believe the user experience created by NavigationArts will be a game-changer for Saint Joseph's University and a breakthrough for higher education sites in general," said Joseph Lunardi, Assistant Vice President of Marketing Communications of Saint Joseph's University. "Already, the buzz surrounding SJU.EDU is resonating among students, faculty, staff and alumni. When your students are tweeting positive things, you're probably doing something right."
The new Saint Joseph's University site differentiates itself from other .EDU sites by providing a clearly distinguishable brand with elevated content through non-traditional navigation schemas. You can view the new website at Saint Joseph's University.
About NavigationArts
NavigationArts is a full-service digital technology consultancy specializing in web strategy, user experience design, and technology. We ensure our clients meet their business needs by optimizing their Web presence for communication, e-commerce, community building, and more. At NavigationArts, we believe that user experience is the only sustainable competitive advantage online. Our mission is to create online experiences that are most satisfying for our users and most valuable for our clients. For more information, go to http://www.navigationarts.com.
NavigationArts Media Contact:
Kenya Hayes
703-584-8935
khayes(at)navigationarts(dot)com