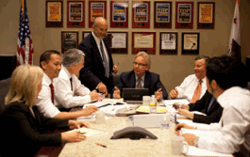 This recent ruling only solidifies the notion that these women have been seriously wronged and deserve substantial compensation to reimburse them for their medical expenses as well as pain and suffering
California (PRWEB) July 31, 2012
The first pelvic mesh lawsuit was recently decided in favor of the implant patient, according to Bloomberg News. C.R. Bard Inc., manufacturer of a transvaginal mesh product that has been linked to high failure rates, now has a judgment against them in favor of Christine Scott, as well as her husband, in the amount of $5.5 million after C.R. Bard's product was determined to be the cause of Mrs. Scott's injuries.
Mrs. Scott's case was the first among hundreds of vaginal mesh lawsuits alleging that several manufacturers produced implants that cause organ damage. If the other plaintiffs receive similar favorable results to their lawsuits, the manufacturers responsible for their products will be liable for hundreds of millions of dollars in compensation.
Travis Siegel, Bisnar | Chase transvaginal mesh attorney, is currently representing several women who claim to have suffered similar injuries as a result of using pelvic mesh products. "The fact that a California jury was able to look at the evidence and make a strong decision in favor of the injured victim on the first case that went to trial is encouraging for all of those who are pursuing compensation for vaginal mesh injuries.
Our clients are undergoing severe emotional and physical trauma as a result of these products. This recent ruling only solidifies the notion that these women have been seriously wronged and deserve substantial compensation to reimburse them for their medical expenses as well as pain and suffering," says Mr. Siegel.
Bisnar | Chase attorneys have been representing defective product victims for decades. Brian Chase, leading defective product litigator, has developed a number of strategies that have achieved a great deal of success against major manufacturers whilst pursing multimillion dollar compensations for the firm's clients.
"When my firm evaluates a defective product claim, we use the following check lists," says Mr. Chase.
Bisnar | Chase Product Defect Checklist
For a product to be deemed defective, one of the following three statements must be true.

A design flaw or defect: the product was designed in a way that make the entire line dangerous
A manufacturing flaw or defect: a safely designed product was not constructed properly by the manufacturer
Inadequate warnings or instructions: clear direction do not properly advice consumers how to use the product
Bisnar | Chase Products Liability Checklist
For product defect victims to obtain compensation for their injuries, the following statements must be true.
A defective product exists
The product's defect existed prior to the manufacturer's release
The defect was a direct cause of your injuries
About Bisnar | Chase Product Defect Attorneys
The product defect attorneys at Bisnar | Chase have obtained a number of multimillion dollar verdicts and settlements on behalf of their clients, including a $24.7 million verdict in a product defect case last year. The Bisnar | Chase law firm is currently offering free professional legal evaluations to women who have suffered injuries using American Medical Systems (AMS), Boston Scientific, Bard, Johnson & Johnson, Coloplast, Caldera Medical, Cook Medical, and Tyco Healthcare pelvic mesh products.
For a free case evaluation, call 800-561-4887 or visit their website at http://www.bestattorney.com