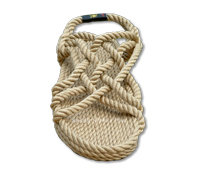 strange travel plans are dancing lessons from the universe
Fayetteville, NC (PRWEB) July 31, 2012
Nomadic State of Mind, a grassroots sandal company from North Carolina, prepares to travel west for another festival in their summer travels, Outside Lands. The festival will take place from August 10 - 12 in San Francisco, and Nomadic will be there selling their handmade rope sandals, organic apparel and more.
The small company has been selling their goods at festivals for over ten years, but only a few bring them trekking to the other side of the country as they stay busy on the east coast for most of the year. Nomadic attended Outside Lands last year for the first time and owner, Chris Anderson, has said he is looking forward to attending this year as well- as strange travel plans are dancing lessons from the universe!
This year Nomadic will be selling their traditional JC style rope sandals, as well as some new styles that just came out this season including the San Juan style. They also have a number of new t-shirts that are only available at festivals this year and other goods such as hipsacks, bottle carriers, purses and belts. Many festival goers are aware that their sandals are the perfect festival footwear as they are lightweight, machine washable , super comfortable and have a backstrap that keep them in place while dancing the day and night away. They are also vegan friendly and extremely durable!
About Nomadic State of Mind
Nomadic State of Mind was founded nearly ten years ago and is based in North Carolina. Manufacturing takes place both in Florida and in Nicaragua where the company has helped support a small community for the past eight years. Nomadic has always believed in positive contributions to the world around them and is committed to remaining true to their roots. For more information or additional art work please contact Chris Anderson or Shea McNally at 877-666-2376 or http://www.nomadicstate.com.