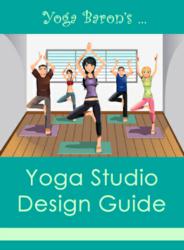 (PRWEB) July 28, 2012
On July 26, 2012 Yoga Baron published a 23 page yoga studio design guide. The book is available in PDF format.
At this time it's a free book for Yoga Baron readers.
Topics covered include yoga studio design themes, resources for design inspiration, limited budget ideas, flooring, the reception area, facilities and amenities, lighting, scent, music, walls and exteriors.
The guide is useful for both new and long-time studio owners and teachers.
The guide makes the point that a beautiful studio will not make up for poor teaching and providing for subpar yoga experiences for students. However, design can certainly elevate the experience of students.
It also points out that there is no one perfect yoga studio design. In fact, design is one way for a studio to differentiate itself and provide a unique yoga experience.
You can request a free copy of Yoga Baron's Yoga Studio Design Blog at:
http://www.yogabaron.com/yoga-studio-design-guide
About
Yoga Baron is an online yoga business and marketing magazine. It covers marketing, legal, and technology issues for yoga studio owners and yoga teachers.
Yoga Baron also publishes a widely read e-newsletter providing exclusive yoga studio business tips.
Visit Yoga Baron at: