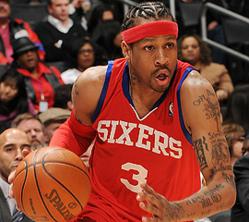 AthletePromotions founder Ryan Totka said, Fans can now interact and connect with Allen, a true basketball innovator. Corporations can also book him for appearances and speaking engagements."
New York, NY (PRWEB) July 30, 2012
The NBA has reached new heights and new audiences this summer with the dazzling play at the Las Vegas Summer League along with the play by the USA National Basketball Team. Former NBA All-Stars have been making headlines as they rally behind the USA Team along with openly sharing their experiences while playing in the NBA. Allen Iverson, representative of the United States at the 2004 Summer Olympics, recently made his presence felt with the official launch of his website http://www.AllenIverson.com.
Most known for his prolific scoring ability in the NBA, Allen Iverson astonished fans with his finesse on and off the court. Fans got a first glimpse at this Future NBA All-Star while playing two successful years at Georgetown. Shortly after those two years, Iverson declared for the 1996 NBA Draft, and was selected by the Philadelphia 76ers with the number one pick.
His attention-grabbing style of play immediately caught the attention of fans as well as commentators as he seemingly became a walking highlight reel in the NBA. His style of play and scoring was immediate recognized as he named the NBA Rookie of the Year in the 1996–97 season. Iverson welcomed the attention and excelled when it came time to prove that he is one of the best players to step on an NBA floor.
His career stats have confirmed that notion as he won the NBA scoring title during the 1998–99, 2000–01, 2001–02 and 2004–05 seasons. Iverson also had a regular season career scoring average of 26.7 points per game which ranks sixth all-time and on the biggest stage his playoff career scoring average of 29.7 points per game is second only to Michael Jordan. The list does not stop there as Iverson was also named the NBA Most Valuable Player of the 2000–01 Season and led his team to the 2001 NBA Finals the same season. Many of Iverson's accolades were accomplished while playing for the Philadelphia 76ers, but he also went on to play for the Denver Nuggets, Detroit Pistons and the Memphis Grizzlies.
His official website, AllenIverson.com, allows fans to relive those memories and offers fans video highlights, photos of his shoe and jersey collection, upcoming basketball camps, official merchandise and the ability for corporations to book Allen for appearances, autograph signings, VIP Meet & Greets and product endorsement deals.
Written by: Anthony Fernandez
About AthletePromotions.com
AthletePromotions is a sports marketing firm and athlete booking agency securing thousands of athletes for speaking engagements, corporate appearances, product endorsements, autograph signings, spokesperson campaigns, celebrity golf tournaments, VIP Meet & Greets and more. To book an athlete, call us at 1.888.246.7141
Ryan Totka and his team at AthletePromotions have assisted corporations booking Allen Iverson and sports broadcasters for speaking engagements, corporate appearances and VIP Meet & Greets.