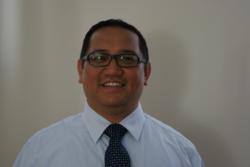 Riverdale, N.Y. (PRWEB) July 30, 2012
Bon Secours New York Health System's Schervier Nursing Care Center in the Riverdale section of The Bronx announces the appointment of Nebuchadrezzar "Joneb" P. Alday, as assistant director of nursing. Alday will oversee several clinical areas within the facility including wound care, the department's use of electronic medical records, and specialized medical equipment. He will be responsible for ensuring safe, therapeutic nursing practices to deliver the highest quality care for long-term care and rehabilitation program residents.
"Joneb's extensive experiences in nursing coupled with his clinical and leadership skills, will play an important role in providing quality care and continued excellence of service to all residents," said Eileen Malo, Schervier Nursing Care Center Interim CEO. "His passion for helping people in need directly aligns with our mission. Because of that, we know that he will be a great addition to our incredible nursing team."
Prior to joining Schervier, Alday served on the nursing staff at New York Presbyterian Hospital for over six years. There, Alday started as a clinical nurse I, and achieved the title of clinical nurse III, specializing in cardiac telemetry for his last two years. Alday also served as a supervisor of patient care services at American Homecare/American Family Care. Preceding his nursing career, Alday worked as a staff engineer at the VSA Group Consulting Engineers, among other engineering positions within the United States, Saudi Arabia and the Philippines.
"I identified with Schervier's values and mission and am looking forward to continuing and advancing my nursing career with such a reputable health care system," said Alday.
Alday holds a B.S. in Nursing from Dominican College of Blauvelt, New York and is currently pursuing his Masters of Science in Nursing through Loyola University of New Orleans. Additionally, he holds a B.S. in Civil Engineering from the Technological Institute of The Philippines. Alday is a member of the American Association of Neuroscience Nurses, American Heart Association, American Stroke Association and American Nurses Association. He currently resides in Yonkers, N.Y.
About Bon Secours New York Health System
Bon Secours New York Health System is part of Bon Secours Health System Inc., a not-for-profit Catholic health system headquartered in Marriottsville, Md.
Schervier Nursing Care Center is located in the Riverdale section of The Bronx, and is part of Bon Secours New York Health System, whose mission is to bring compassion to health care and to be "good help to those in need." Bon Secours New York's mission is carried out through the services and programs of Schervier Nursing Care Center, Schervier Short-Term Rehabilitation in Riverdale, Schervier Respite Care, Schervier Center for Alzheimer's and Dementia Care, Schervier Home Care, Schervier Cardio/Pulmonary Sub-Acute Care, the Bon Secours Center for Research in Geriatric Care and the Schervier Apartments. Information about Schervier and Bon Secours New York may be obtained from the Business Development Department at 2975 Independence Avenue in Riverdale, by calling (718) 548-1700, and at http://www.scherviercares.org.