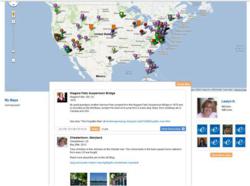 Philadelphia, PA (PRWEB) July 28, 2012
Uencounter.me, a Virtual Pin Map and one of the newest geo-location web apps to hit the market released more new features this week. Working under the Lean Startup principles, the uencounter.me Team begins with an MVP (minimum viable product) and then pays attention to how its users are interacting with the application and encourages productive feedback.
After releasing several new "pins" last month for genealogy, business relationships, and future plans, the genealogy community was quick to respond with suggestions and recommendation on what was needed to provide a superior product. Several of the features released this week are based on that feedback.
The most noticeable inclusion is that of user profile pages. Now, all of the authorized information about a users pin map is easily accessible in one location. A user's interactive map with all of their pinned locations, uploaded photos, and commentary are displayed on the new profile page. The abilities to like a pin, link with that user, and engage in discussion are other new features of the user profile.
The travel and genealogy bloggers that use the site regularly were the most vocal in asking for a profile page that was easily accessible to their readers according to Co-Founder Leslyn Kantner. Prior to this release, users had to navigate each pin on the map to find a particular blog post or look at photos. Now, all of the information is nicely displayed in one location and individuals can interact with the bloggers right from their profile. Similar to other social engagement websites, all uencounter.me users now have an interactive personal page that they can share with whomever they choose.
The new page leaves room for yet more new features soon to roll out of uencounter.me; the ability to create customized maps containing favorite subsets of pins. Kantner stated that this newest element should be available within a few weeks' time.
Uencounter.me is a virtual version of wall and tack maps that have been used for decades to track a variety of interests. The uencounter.me Team reports an increase of business uses, most recently a number of oil wells were pinned that identified velocity and engineering specs. "This is just one of the many examples of how a pin map can be useful in a business environment and how uencounter.me can serve the corporate population" says Kantner.
"Our next objective is to demonstrate how specific interest groups can benefit from using the site". The UE Team is working on promoting customized maps of an interest group to other members of that group. One of our Team members loves white water rafting and shares the experience on each of the pins he has placed in the locations he has rafted. We want to encourage interaction from others with the same interest. Uencounter.me users have pinned skydiving, hiking, bands they follow, and antique shows attended, demonstrating that any number of interests are 'pinnable'.